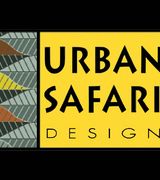 Principal, Owner (10 years experience)
Specialties:

Interior Design
Add personality to your profile! Tell the community about yourself, your home, and your profession.
Peggy Odita-Hodel, Principal and Co-founder of Urban Safari Design Inc., grew up in Ohio and moved to California to attend college at Stanford University. She graduated with a B.A. in Design and later attended graduate school at UCLA's Architecture and Interior Design Extension program.
Peggy is a Certified Interior Designer as well as an Allied member of the American Society of Interior Designers and an NKBA member. She believes in 'mutually inclusive' design and feels that everyone is entitled to live in an environment that serves them properly in addition to being aesthetically pleasing. She strives to bring an organically prominent, contemporary aesthetic to her designs by bringing texture, color and clean lines to interior spaces.
More
Less
About Peggy Odita-Hodel: <!--[if gte mso 9]><xml> <m:mathPr> <m:mathFont m:val="Cambria Math"/> <m:brkBin m:val="before"/> <m:brkBinSub m:val="&#45;-"/> <m:smallFrac m:val="off"/> <m:dispDef/> <m:lMargin m:val="0"/> <m:rMargin m:val="0"/> <m:defJc m:val="centerGroup"/> <m:wrapIndent m:val="1440"/> <m:intLim m:val="subSup"/> <m:naryLim m:val="undOvr"/> </m:mathPr></w:WordDocument> </xml><![endif]-->Peggy Odita-Hodel, Principal and Co-founder of Urban Safari Design Inc., grew up in Ohio and moved to California to attend college at Stanford University. She graduated with a B.A. in Design and later attended graduate school at UCLA's Architecture and Interior Design Extension program. <br/><br/><p>Peggy is a Certified Interior Designer as well as an Allied member of the American Society of Interior Designers and an NKBA member. She believes in &lsquo;mutually inclusive' design and feels that everyone is entitled to live in an environment that serves them properly in addition to being aesthetically pleasing. She strives to bring an organically prominent, contemporary aesthetic to her designs by bringing texture, color and clean lines to interior spaces.</p><!--[if gte mso 9]><xml> </xml><![endif]--><!--[if !mso]><object classid="clsid:38481807-CA0E-42D2-BF39-B33AF135CC4D" id=ieooui></object> <style> st1\:*{behavior:url(#ieooui) } </style> <![endif]--><!--[if gte mso 10]> <style> /* Style Definitions */ table.MsoNormalTable {mso-style-name:"Table Normal"; mso-style-parent:""; font-size:11.0pt; font-family:"Calibri","sans-serif"; mso-fareast-font-family:"Times New Roman"; mso-bidi-font-family:"Times New Roman";} </style> <![endif]-->