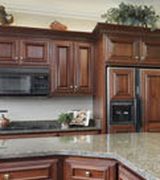 A-1 Remodeling by Randall J. Smith
Specialties:

Electrical,
General Contracting,
Interior Design,
Plumbing
Add personality to your profile! Tell the community about yourself, your home, and your profession.
Your home is your castle. Expect nothing less than the best working on it. All of our home improvement work, from painting a living room to installing a new roof, is completed by reliable, trained professionals backed by over 20 years of experience.
Anyone can throw out a number. It's the accuracy that really matters.
The best defense against hidden fees and charges is to get an itemized proposal before any work is done — included with every one of our free estimates — so you can see how every cost is accounted for beforehand.
Cut back on the stress without ever cutting back on the quality.
By picking through exactly what you want, whether custom cabinetry is a must or if you're fine with prebuilt, for instance, you can tailor your remodel or renovation to precisely fit your needs while still fitting your budget.
Get to know A-1 Remodeling by Randall J. Smith:
Flooring; - Wood, tile, and laminate floor installations and maintenance
Kitchen and Bath Remodeling - Plumbing, electrical, tiling, cabinetry, and handicap accessibility
Exterior Repairs and Remodels - New roofs and reroofs, siding, windows, gutters, decks, porches, and painting
More
Less
About A-1 Remodeling by Randall J. Smith: <p><strong>Your home is your castle. Expect nothing less than the best working on it.&nbsp;</strong>All of our home improvement work, from painting a living room to installing a new roof, is completed by reliable, trained professionals backed by over 20 years of experience.</p><p><strong>Anyone can throw out a number. It's the accuracy that really matters.<br/></strong>The best defense against hidden fees and charges is to get an itemized proposal before any work is done&nbsp;&mdash; included with every one of our free estimates&nbsp;&mdash;&nbsp;so you can see how every cost is accounted for beforehand.&nbsp;</p><p><strong>Cut back on the stress without ever cutting back on the quality.<br/></strong>By picking through exactly what you want, whether custom cabinetry is a must or if you're fine with prebuilt, for instance, you can tailor your remodel or renovation to precisely fit your needs while still fitting your budget.</p><p><strong>Get to know A-1 Remodeling by Randall J. Smith:</strong></p><ul><li style="margin: 0px; padding: 0px;"><u><a rel="nofollow" href="http://www.homeremodelchattanooga.com/chattanooga-tn-wood-tile-and-laminate-flooring.html"><font>Flooring</font></a></u>; - Wood, tile, and laminate floor installations and maintenance</li><li style="margin: 0px; padding: 0px;"><u><a rel="nofollow" href="http://www.homeremodelchattanooga.com/chattanooga-tn-kitchen-and-bath-remodeling.html"><font>Kitchen and Bath Remodeling</font></a></u>&nbsp;- Plumbing, electrical, tiling, cabinetry, and handicap accessibility</li><li style="margin: 0px; padding: 0px;"><u><a rel="nofollow" href="http://www.homeremodelchattanooga.com/chattanooga-tn-roofing-and-exterior-home-improvement.html"><font>Exterior Repairs and Remodels</font></a></u>&nbsp;- New roofs and reroofs, siding, windows, gutters, decks, porches, and painting</li></ul>