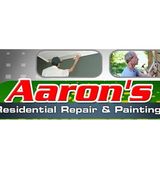 Aaron's Residential Repair & Painting
Residential Repair & Painting
Specialties:

General Contracting,
Interior Design,
Painting,
Plumbing
Add personality to your profile! Tell the community about yourself, your home, and your profession.
Stop adding things to your to-do list and start checking some off!
Call Aaron's Residential Repair & Painting for all of your home remodeling needs. From flooring and cabinetry to drywall and tile installation, you won't believe the difference little improvements can make.
With the swing of a hammer and the swipe of a brush your home can have a complete new look in no time.
We'll help you finish those lingering projects:
Flooring
Tile installation
Tile repair
Cabinetry installation
Cabinetry repair
Drywall installation
Drywall repair
Give your home some curb appeal:
Tree removal/Tree trimming
Weeding
Light landscaping
Fence repair
Fence installation
Deck and patio repair
Give your home some character:
Interior painting
Exterior painting
Sanding and patching
Faux and decorative finishes
Door and cabinet refinishing
More
Less
About Aaron's Residential Repair & Painting: <strong>Stop adding things to your to-do list and start checking some off!</strong> <strong>Call Aaron's Residential Repair &amp; Painting for all of your home remodeling needs. From flooring and cabinetry to drywall and tile installation, you won't believe the difference little improvements can make.</strong>&nbsp;With the swing of a hammer and the swipe of a brush your home can have a complete new look in no time.<p><strong>We'll help you finish those lingering projects:</strong></p><ul><li style="margin: 0px; padding: 0px;"><strong>Flooring</strong></li><li style="margin: 0px; padding: 0px;"><strong>Tile installation</strong></li><li style="margin: 0px; padding: 0px;"><strong>Tile repair</strong></li><li style="margin: 0px; padding: 0px;"><strong>Cabinetry installation</strong></li><li style="margin: 0px; padding: 0px;"><strong>Cabinetry repair</strong></li><li style="margin: 0px; padding: 0px;"><strong>Drywall installation</strong></li><li style="margin: 0px; padding: 0px;"><strong>Drywall repair</strong></li></ul><strong>Give your home some curb appeal:</strong><br/><br/><ul><li style="margin: 0px; padding: 0px;">Tree removal/Tree trimming</li><li style="margin: 0px; padding: 0px;">Weeding</li><li style="margin: 0px; padding: 0px;">Light landscaping</li><li style="margin: 0px; padding: 0px;">Fence repair</li><li style="margin: 0px; padding: 0px;">Fence installation</li><li style="margin: 0px; padding: 0px;">Deck and patio repair</li></ul>Give your home some character:<br/><br/><ul><li style="margin: 0px; padding: 0px;">Interior painting</li><li style="margin: 0px; padding: 0px;">Exterior painting</li><li style="margin: 0px; padding: 0px;">Sanding and patching</li><li style="margin: 0px; padding: 0px;">Faux and decorative finishes</li><li style="margin: 0px; padding: 0px;">Door and cabinet refinishing</li></ul>