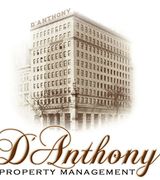 Owner/Member
Specialties:

Commercial R.E.,
Property Management
Add personality to your profile! Tell the community about yourself, your home, and your profession.
Our Company
We are a family based company and pride ourselves on operating with honesty and integrity. Our attention to detail and old fashioned hard work enables us to create value and ease of ownership to our clients. D'Anthony Property Management,LLC and its affiliated companies provide comprehensive management services for commercial and residential property owners. We currently focus on properties in the Greater Baltimore Metropolitan Area. And Surrounding Counties.
Mission
"We inspire our clients by providing an optimum level of personal service with loyalty and dedication. Through new and innovative methods we will help to ensure the success of the properties we manage, this is our highest priority!"
Why Choose Us?
With over 30 years experience in Real Estate Sales and Leasing, we have the knowledge and expertise that helps give us an edge in the market. Our goal is to provide personalized service to all of our clients. You will always be able to reach us directly without being connected to an automated service. We do have an emergency contact number in place for closed business hours. There is an extensive network of contractors in established who are all licensed and bonded. This allows us the chance to find the most competitive price. The short & long term goals of the owner(s) are something we take seriously. We want to help increase value while providing high quality management services.
More
Less
About Amy Pelletier: <p class="MsoNoSpacing"><strong><u>Our Company</u></strong></p><p class="MsoNormal">We are a family based company and pride ourselves on operating with honesty and integrity. Our attention to detail and old fashioned hard work enables us to create value and ease of ownership to our clients. D'Anthony Property Management,LLC and its affiliated companies provide comprehensive management services for commercial and residential property owners. We currently focus on properties in the Greater Baltimore Metropolitan Area. &nbsp;And Surrounding Counties.</p><p class="MsoBodyText2"><strong><u>Mission</u></strong></p><p class="MsoBodyText2">"We inspire our clients by providing an optimum level of personal service with loyalty and dedication. Through new and innovative methods we will help to ensure the success of the properties we manage, this is our highest priority!"</p><p class="MsoNormal"><strong><u>Why Choose Us?</u></strong></p><p class="MsoNormal">With over 30 years experience in Real Estate Sales and Leasing, we have the knowledge and expertise that helps give us an edge in the market. Our goal is to provide personalized service to all of our clients. You will always be able to reach us directly without being connected to an automated service. We do have an emergency contact number in place for closed business hours.&nbsp; There is an extensive network of contractors in established who are all licensed and bonded. This allows us the chance to find the most competitive price. The short &amp; long term goals of the owner(s) are something we take seriously. We want to help increase value while providing high quality management services.</p>