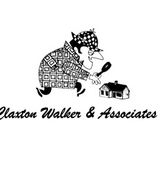 Claxton Walker & Associates
Home Inspection Services
Specialties:

Consulting,
Inspection,
New Home Evaluation
Add personality to your profile! Tell the community about yourself, your home, and your profession.
Home inspections & consultation are our only business. We are impartial and work only for you. We have no affiliation with any real estate interest or contracting firm. Our job is to provide you with a comprehensive, fair, independent, objective evaluation. Your interests are our interests before, during, and after the inspection for as long as you own the property.
Claxton Walker and Associates has been providing Home Inspection Services for more than 38 years and is the oldest company of its kind in the Mid-Atlantic area. This company has performed more than 36,000 inspections in its 38+ year history. It was the Practical experience of Claxton Walker and his associates that formed the basis upon which Industry wide standards were eventually developed. The Walker Family has been serving the Washington DC, Maryland, and Virginia communities with construction and Real Estate services since 1742.
Specialties Include but not limited to:

Inspection and Consultation
Home Remodeling Consultation & Evaluation
New Home Evaluation
Dispute Arbiter & Consultation
Special problem solving/forensic investigation

Check out our website:
www.CLAXTONWALKER.com
More
Less
About Claxton Walker & Associates: Home inspections &amp; consultation are our only business. We are impartial and work only for you. We have no affiliation with any real estate interest or contracting firm. Our job is to provide you with a comprehensive, fair, independent, objective evaluation. Your interests are our interests before, during, and after the inspection for as long as you own the property.<br/><br/>Claxton Walker and Associates has been providing Home Inspection Services for more than 38 years and is the oldest company of its kind in the Mid-Atlantic area. This company has performed more than 36,000 inspections in its 38+ year history. It was the Practical experience of Claxton Walker and his associates that formed the basis upon which Industry wide standards were eventually developed. The Walker Family has been serving the Washington DC, Maryland, and Virginia communities with construction and Real Estate services since 1742.<br/><br/><p class="MsoNormal">Specialties Include but not limited to:<br/><br/>Inspection and Consultation<br/>Home Remodeling Consultation &amp; Evaluation<br/>New Home Evaluation<br/>Dispute&nbsp;Arbiter&nbsp;&amp; Consultation<br/>Special problem solving/forensic investigation&nbsp;<br/><br/>Check out our website:<br/><a rel="nofollow" href="http://www.CLAXTONWALKER.com">www.CLAXTONWALKER.com</a></p>