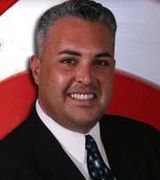 Hector Castaneda
7 Recent Sales (last 12 months)
Realtor, CA Realtor
Specialties:

Buyer's Agent,
Listing Agent,
Relocation,
VA
Add personality to your profile! Tell the community about yourself, your home, and your profession.
Hector Rafael Castaneda was born and raised in Upland, CA. located in the west end of San Bernardino County Area. He is the youngest child of Carlos and Irma Castaneda, whom immigrated from Chihuahua, Mexico to California in the mid 50's. Mr. Castaneda attended local schools, and graduated from Upland High School. He then attended New Mexico State University (NMSU) in Las Cruces, NM, and graduated with a Bachelor of Business Administration in Sale Marketing. While at NMSU, he was President of the Hispanic Business Student Association, Head Coordinator of the Special Olympics @ NMSU, and member of Delta Sigma Pi, professional business fraternity.
Mr. Castaneda has been in the Real Estate industry since 1995. He enjoyed many years of successful stewardship, mentorship, and recruiting as an independent Realtor for local Brokers. In 2004 he was asked to steer the helm as a Branch Manager of a local Century 21. He became the youngest Manager in the region for that system. During his tenure he was able to propel the branch from #13 to #3 in the region. He was also introduced to radio advertising as the "on air" character and personality, "Hectorthehomefinder", on Wild 96 FM and KDAY 935.FM.
Mr. Castaneda has been quoted as saying: ""We are what we repeatedly do. Excellence, then, is not an act, but a habit." His focus is to propel the staff at MGR Real Estate into new heights of their own success. As a full time manager, he is available to his staff over 45 hours per week. He is persistent that the Agents of MGR Real Estate will be the most professional, knowledgeable, and supervised staff in the Inland Valley and High Desert.
Mr. Castaneda speaks fluent Spanish. He continues to be active in community events, various sports organizations, and is focused on community service. He lives locally with his wife Debra, raising their son Evan Elias
More
Less
About Hector Castaneda: <p>&nbsp; &nbsp; &nbsp;Hector Rafael Castaneda was born and raised in Upland, CA. located in the west end of San Bernardino County Area.&nbsp; He is the youngest child of Carlos and Irma Castaneda, whom immigrated from Chihuahua, Mexico to California in the mid 50's.&nbsp; Mr. Castaneda attended local schools, and graduated from Upland High School.&nbsp; He then attended New Mexico State University (NMSU) in Las Cruces, NM, and graduated with a Bachelor of Business Administration in Sale Marketing.&nbsp; While at NMSU, he was President of the Hispanic Business Student Association, Head Coordinator of the Special Olympics @ NMSU, and member of Delta Sigma Pi, professional business fraternity.&nbsp;</p><p>Mr. Castaneda has been in the Real Estate industry since 1995. He enjoyed many years of successful stewardship, mentorship, and recruiting as an independent Realtor for local Brokers.&nbsp; In 2004 he was asked to steer the helm as a Branch Manager of a local Century 21.&nbsp; He became the youngest Manager in the region for that system.&nbsp; During his tenure he was able to propel the branch from #13 to #3 in the region.&nbsp; He was also introduced to radio advertising as the "on air" character and personality, "Hectorthehomefinder", on Wild 96 FM and KDAY 935.FM.</p><p>Mr. Castaneda has been quoted as saying: ""We are what we repeatedly do. Excellence, then, is not an act, but a habit."&nbsp; His focus is to propel the staff at MGR Real Estate into new heights of their own success.&nbsp; As a full time manager, he is available to his staff over 45 hours per week.&nbsp; He is persistent that the Agents of MGR Real Estate will be the most professional, knowledgeable, and supervised staff in the Inland Valley and High Desert.&nbsp;</p>Mr. Castaneda speaks fluent Spanish.&nbsp; He continues to be active in community events, various sports organizations, and is focused on community service.&nbsp; He lives locally with his wife Debra, raising their son Evan Elias
Property Address
Represented
Sold Date
Price