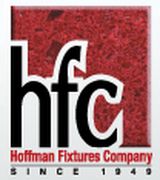 Specialties:

General Contracting
Add personality to your profile! Tell the community about yourself, your home, and your profession.
Success. It starts with a dream and is achieved through numerous hours of hard work, consistently delivering premium quality products, and continually maintaining a high degree of business integrity. When you look inside HFC that's exactly what you'll find. From Father and Son, Cecil and Elden Hoffman's first day of business in 1949 to this day, over 60 years later, you'll find the same solid workmanship at Tri-State Kitchen & Bath.
Beginning in 1949 Hoffman Fixtures Company manufactured products in a small garage. Today, through four generations of leadership, Hoffman and Tri-State now manufactures and sells products inside of four seperate facilities that total 80,000 square feet and operates out of four seperate locations in Oklahoma and Arkansas.
In July of 2008, Hoffman Kitchen & Bath Tulsa moved into a brand new state of the art 30,000 square foot building located on the northeast corner of 61st Street South and 129th East Avenue in Tulsa, Oklahoma. This location houses, Hoffman Fixtures Company's Stone, Solid Surface, and Laminate fabrication departments as well as Hoffman Kitchen & Bath Tulsa.
In March of 2010 Hoffman Fixtures Company expanded its operations into the Oklahoma City Metroplex. Overnight we burst onto the scene with Hoffman Kitchen & Bath Oklahoma City. A beautiful new showroom located at 2800 S. Kelly Ave, in Edmond, Oklahoma, bringing with us our vast line of products and our passion for excellent customer service.
In December 2012 Hoffman Fixtures Company expanded its reach yet again, by moving into the Northwest Arkansas Metropolitan Area. Opening up Tri-State Kitchen & Bath located at 2002 Ford Avenue, in Springdale, Arkansas. We now offer the same great service that our customer's have come to expect, along with all of the same great kitchen & bathroom products available now in Northwest Arkansas.
Now, no matter if you're in Oklahoma, Broken Arrow, Bixby, Owasso, or Jenks. Norman, Moore, Midwest City, Yukon, or Shawnee. And in Arkansas, Bella Vista, Rogers, Bentonville, Sprindale, Fayetteville, or even Ft. Smith, Hoffman Kitchen & Bath and Tri-State Kitchen & Bath is there for you. Offering a wide variety of products, designs, and services ranging from Quartz, Stone, Solid Surface, Laminate, Wood, and Aztec Cultured Marble, to custom cabinets, plumbing fixtures, and tile, as well as shower doors and mirrors, making Hoffman Kitchen & Bath and Tri-State Kitchen & Bath a true "one stop shop" for your entire kitchen and bath remodeling needs. So before you decide on a surface, come and explore all of your options and be sure to include a visit to any one of our Hoffman Kitchen & Bath showrooms in Tulsa, Oklahoma City, or Tri-State Kitchen & Bath in Northwest Arkansas, where you will find our knowledgeable people always here to assist you.
More
Less
About Hoffman Fixtures Company: Success. It starts with a dream and is achieved through numerous hours of hard work, consistently delivering premium quality products, and continually maintaining a high degree of business integrity. When you look inside HFC that's exactly what you'll find. From Father and Son, Cecil and Elden Hoffman's first day of business in 1949 to this day, over 60 years later, you'll find the same solid workmanship at Tri-State Kitchen &amp; Bath.<p>Beginning in 1949 Hoffman Fixtures Company manufactured products in a small garage. Today, through four generations of leadership, Hoffman and Tri-State now manufactures and sells products inside of four seperate facilities that total 80,000 square feet and operates out of four seperate locations in Oklahoma and Arkansas.</p><p>In July of 2008, Hoffman Kitchen &amp; Bath Tulsa moved into a brand new state of the art 30,000 square foot building located on the northeast corner of 61st Street South and 129th East Avenue in Tulsa, Oklahoma. &nbsp;This location houses, Hoffman Fixtures Company's Stone, Solid Surface, and Laminate fabrication departments as well as Hoffman Kitchen &amp; Bath Tulsa. &nbsp;</p><p>In March of 2010 Hoffman Fixtures Company expanded its operations into the Oklahoma City Metroplex. &nbsp;Overnight we burst onto the scene with Hoffman Kitchen &amp; Bath Oklahoma City. &nbsp;A beautiful new showroom located at 2800 S. Kelly Ave, in Edmond, Oklahoma, bringing with us our vast line of products and our passion for excellent customer service. &nbsp;</p><p>In December 2012 Hoffman Fixtures Company expanded its reach yet again, by moving into the Northwest Arkansas Metropolitan Area. &nbsp;Opening up Tri-State Kitchen &amp; Bath located at 2002 Ford Avenue, in Springdale, Arkansas. &nbsp;We now offer the same great service that our customer's have come to expect, along with all of the same great kitchen &amp; bathroom products available now in Northwest Arkansas.</p><p>Now, no matter if you're in Oklahoma, Broken Arrow, Bixby, Owasso, or Jenks. &nbsp;Norman, Moore, Midwest City, Yukon, or Shawnee. &nbsp;And in Arkansas, Bella Vista, Rogers, Bentonville, Sprindale, Fayetteville, or even Ft. Smith, Hoffman Kitchen &amp; Bath and Tri-State Kitchen &amp; Bath is there for you. &nbsp;Offering a wide variety of products, designs, and services ranging from Quartz, Stone, Solid Surface, Laminate, Wood, and Aztec Cultured Marble, to custom cabinets, plumbing fixtures, and tile, as well as shower doors and mirrors, making Hoffman Kitchen &amp; Bath and Tri-State Kitchen &amp; Bath a true "one stop shop" for your entire kitchen and bath remodeling needs. &nbsp;So before you decide on a surface, come and explore all of your options and&nbsp;be sure to include a visit to any one of our Hoffman Kitchen &amp; Bath showrooms in Tulsa, Oklahoma City, or Tri-State Kitchen &amp; Bath in Northwest Arkansas, where you will find our knowledgeable people always here to assist you.</p>