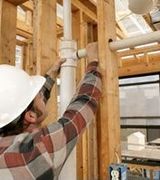 Co-Owner (30 years experience)
Add personality to your profile! Tell the community about yourself, your home, and your profession.
Jar-Dab Plumbing, Inc. is a licensed and insured plumbing service providing quality service to The Colony. You get to talk to a licensed plumber instead of a receptionist when you call in. The Colony Plumber services include Plumbing Repairs, Sewer Cleaning, Water Heaters (Gas & Electric), Tankless Water Heaters, Drain Cleaning, Leak Repairs, Gas Line Leak Repairs, Faucets, Toilets, Sinks & Showers, LP Gas Piping Systems, and Garbage Disposals.
More
Less
About Renee Brackeen: <!--[if gte mso 9]><xml> <o:OfficeDocumentSettings> <o:RelyOnVML/> <o:AllowPNG/> </o:OfficeDocumentSettings> </xml><![endif]--><!--[if gte mso 9]><xml> <m:mathPr> <m:mathFont m:val="Cambria Math"/> <m:brkBin m:val="before"/> <m:brkBinSub m:val="&#45;-"/> <m:smallFrac m:val="off"/> <m:dispDef/> <m:lMargin m:val="0"/> <m:rMargin m:val="0"/> <m:defJc m:val="centerGroup"/> <m:wrapIndent m:val="1440"/> <m:intLim m:val="subSup"/> <m:naryLim m:val="undOvr"/> </m:mathPr></w:WordDocument> </xml><![endif]--><!--[if gte mso 9]><xml> </xml><![endif]--><!--[if gte mso 10]> <style> /* Style Definitions */ table.MsoNormalTable {mso-style-name:"Table Normal"; mso-style-parent:""; line-height:115%; font-size:11.0pt; font-family:"Calibri","sans-serif"; mso-bidi-font-family:"Times New Roman";} </style> <![endif]--> <p class="MsoNormal">Jar-Dab Plumbing, Inc. is a licensed and insured plumbing service providing quality service to The Colony. You get to talk to a licensed plumber instead of a receptionist when you call in. The Colony Plumber services include Plumbing Repairs, Sewer Cleaning, Water Heaters (Gas &amp; Electric), Tankless Water Heaters, Drain Cleaning, Leak Repairs, Gas Line Leak Repairs, Faucets, Toilets, Sinks &amp; Showers, LP Gas Piping Systems, and Garbage Disposals.</p>