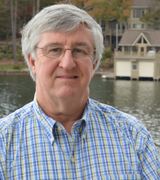 John Dinos
3 Recent Sales (last 12 months)
Realtor® (21 years experience)
Specialties:

Buyer's Agent,
Listing Agent,
Consulting
Add personality to your profile! Tell the community about yourself, your home, and your profession.
Real estate in Rabun County, Georgia is a very unique market. First of all, there is a vast predominance of "second homes" for families from all over the United States. And, because of our close proximity to the metropolitan Atlanta area, and convenient location for Florida residents, many of our property owners are from those two areas. They seem to find the cooler summer climate and colorful Fall season welcome relief from the often stiflingly hot weather at their primary homes. The next unique feature is our very wide range of property types in all price ranges. Our lakes, Burton, Rabun and Seed, offer properties to rival the best and most luxurious properties anywhere else in the world. But, we also offer some of the most affordable properties. Whatever your budget, there is something to match it. We have small mountain condos for that couple''s getaway to large acreage farms for the serious or "gentleman/gentlewoman" farmer and everything in between.
Then, when you start looking you will find that there are a number of property conditions here that you may not have encountered before. For example, most of our lake properties—especially the most expensive ones--are built on lots that are leased from the Georgia Power Company for long terms. Generally, people are used to owning the land under terms known as "fee-simple," and there are those type properties available on the lakes, as well. However the majority is on leased lots and a buyer needs to know what difference it makes to have either one. For another example, if you are from a major metropolitan area, you may not have experience with a well for your water source or a septic system for your sewage. These are very common to our area and while they have traditionally provided safe and proper water supply and sewage disposal, buyers need to know and understand the permitting process as well as how these systems are installed, sized, operated, and maintained.
You have probably heard that old adage that the three most important features to real estate are location, location, and location. Well that is certainly true here in the north Georgia mountains. All different locations are available from mountainsides with spectacular views, to valleys with gentle pastures, from golf course communities to secluded woods, from lake-front to river-front, and from farms to in-town homes. This area has it all. But each property will have its own special location-related features which you will want to explore.
More
Less
About John Dinos: Real estate in Rabun County, Georgia is a very unique market.&nbsp; First of all, there is a vast predominance of "second homes" for families from all over the United States.&nbsp; And, because of our close proximity to the metropolitan Atlanta area, and convenient location for Florida residents, many of our property owners are from those two areas.&nbsp; They seem to find the cooler summer climate and colorful Fall season welcome relief from the often stiflingly hot weather at their primary homes.&nbsp; The next unique feature is our very wide range of property types in all price ranges.&nbsp; Our lakes, Burton, Rabun and Seed, offer properties to rival the best and most luxurious properties anywhere else in the world.&nbsp; But, we also offer some of the most affordable properties.&nbsp; Whatever your budget, there is something to match it.&nbsp; We have small mountain condos for that couple''s getaway to large acreage farms for the serious or "gentleman/gentlewoman" farmer and everything in between. <p class="MsoNormal">Then, when you start looking you will find that there are a number of property conditions here that you may not have encountered before.&nbsp; For example, most of our lake properties&mdash;especially the most expensive ones--are built on lots that are leased from the Georgia Power Company for long terms.&nbsp; Generally, people are used to owning the land under terms known as "fee-simple," and there are those type properties available on the lakes, as well.&nbsp; However the majority is on leased lots and a buyer needs to know what difference it makes to have either one. &nbsp;For another example, if you are from a major metropolitan area, you may not have experience with a well for your water source or a septic system for your sewage.&nbsp; These are very common to our area and while they have traditionally provided safe and proper water supply and sewage disposal, buyers need to know and understand the permitting process as well as how these systems are installed, sized, operated, and maintained.&nbsp;</p><p class="MsoNormal">You have probably heard that old adage that the three most important features to real estate are location, location, and location.&nbsp; Well that is certainly true here in the north Georgia mountains.&nbsp; All different locations are available from mountainsides with spectacular views, to valleys with gentle pastures, from golf course communities to secluded woods, from lake-front to river-front, and from farms to in-town homes.&nbsp; This area has it all.&nbsp; But each property will have its own special location-related features which you will want to explore.</p>
Property Address
Bed / Bath
Price
Property Address
Represented
Sold Date
Price