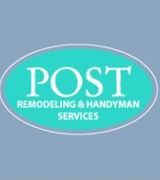 General Contractor
Specialties:

Carpentry,
Electrical,
General Contracting,
Plumbing
Add personality to your profile! Tell the community about yourself, your home, and your profession.
Robert Post founded Post Remodeling & Handyman Services in 2003. Prior to 2003, Robert had been home building and remodeling for 13 years with award winning residential construction companies. He is a BPI certified building analyst and an EPA certified Lead-Safe Remodeler.
He is the subject matter expert and host of the "Greenovating" video series and is published in the Journal of Light Construction.
Since 2003, Post Remodeling & Handyman Services has provided exceptional craftsmanship and customer service to clients in the Philadelphia suburbs. Along the way, they have received many awards including the Best of Philly, Reader's Choice, and consecutive Angie's List Super Service Awards.
Bringing their client's vision to fruition is their passion. Whether it is a deep energy retrofit, a significant remodel or routine repair, Robert Post is on every project to ensure a fantastic outcome.
More
Less
About postremodeling: <p>Robert Post founded&nbsp;<strong>Post Remodeling &amp; Handyman Services</strong>&nbsp;in 2003. Prior to 2003, Robert&nbsp;had been home building and remodeling for 13 years with award&nbsp;winning residential construction companies. He is a&nbsp;<strong>BPI certified</strong>&nbsp;building analyst and an&nbsp;<strong>EPA certified</strong>&nbsp;Lead-Safe Remodeler.</p><p>He is the subject matter expert and host of &nbsp;the "Greenovating" video series and is published in the&nbsp;<a rel="nofollow" href="http://www.jlconline.com/" title="Journal of Light Construction"><font>Journal of Light Construction</font></a>.</p><div><p>Since 2003, Post Remodeling &amp; Handyman Services has provided exceptional craftsmanship and customer service to clients in the Philadelphia suburbs. Along the way, they have received many awards including the&nbsp;<strong>Best of Philly, Reader's Choice, and consecutive Angie's List Super Service Awards</strong>.</p><p>Bringing&nbsp;their&nbsp;client's vision to fruition is their passion. Whether it is a deep energy retrofit, a significant remodel or routine repair, Robert Post is on every project to ensure a fantastic outcome.</p></div>