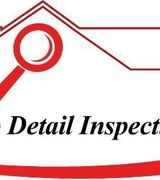 Home Inspector (13 years experience)
Specialties:

Inspection
Add personality to your profile! Tell the community about yourself, your home, and your profession.
Attention To Detail Inspections
Attention To Detail Inspections, Inc. is a family owned and operated business located in Glendale Heights, IL

We have completed many different types of inspections. Every inch of the property is inspected including all structural, electrical, air conditioning system and plumbing. We will notify the client of any item that is noted. We provide quality color photos with every inspection. You will understand every item by the time we are finished.
For more than a decade our inspectors have provided honest, objective, and thorough inspection reports. From the first contact with us through the inspection delivery and explanation of your report, you will experience the ultimate in professionalism.

Our inspectors have extensive technical training and are required to participate in continuing education programs so that their knowledge is increased and the inspector is kept abreast of changes in building standards and products as well as changes in rules that govern the construction and remodeling of homes.


RESPONSIVE
Since we recognize that a timely home inspection is a critical part of a home buying decision, we strive to accommodate all parties with flexible hours and weekend appointments. Our inspectors are knowledgeable and able to provide quick response to informational needs.
All of our inspections are reported using a comprehensive, detailed reporting system that gives the home buyer a complete picture of the home.

OUR PROMISE TO YOU
Choosing the right home inspector can be difficult. Unlike most professionals, you probably will not get to meet me until after you hire me. Furthermore, different inspectors have varying qualifications, equipment, experience, reporting methods, and yes, different pricing. One thing for sure is that a home inspection requires work, a lot of work. Ultimately a thorough inspection depends heavily on the individual inspector's own effort. If you honor me by permitting me to inspect your new home, I guarantee that I will give you my very best effort.


Our Services
Buyers inspections
Sellers Inspections
Rental Inspections
Thermal Imaging
Thermal Imaging Inspections for Commercial, Industrial and Manufacturing
Home Maintenance Inspections
Mold Inspections
Mold Testing
Insurance Inspections
Drive By Photo Only

Licensed by the State of Illinois; License #450.002145

More
Less
About Robert Holtz: <a rel="nofollow" href="http://www.bloomingdalehomeinspector.com/">Attention To Detail Inspections</a>&nbsp;<p><strong><font>Attention To Detail Inspections, Inc.</font></strong>&nbsp;is a family owned and operated business located in Glendale Heights, IL<br/><br/>&nbsp;We have completed many different types of inspections.&nbsp; Every inch of the property is inspected including all structural, electrical, air conditioning system and plumbing.&nbsp; We will notify the client of any item that is noted.&nbsp; We provide quality color photos with every inspection.&nbsp; You will understand every item by the time we are finished.</p><p>For more than a decade our inspectors have provided honest, objective, and thorough inspection reports. From the first contact with us through the inspection delivery and explanation of your report, you will experience the ultimate in professionalism.<br/></p><p>Our inspectors have extensive technical training and are required to participate in continuing education programs so that their knowledge is increased and the inspector is kept abreast of changes in building standards and products as well as changes in rules that govern the construction and remodeling of homes.<br/><br/></p><div>RESPONSIVE<br/>Since we recognize that a timely home inspection is a critical part of a home buying decision, we strive to accommodate all parties with flexible hours and weekend appointments. Our inspectors are knowledgeable and able to provide quick response to informational needs.<br/> All of our inspections are reported using a comprehensive, detailed reporting system that gives the home buyer a complete picture of the home.</div><p><br/>OUR PROMISE TO YOU<br/>Choosing the right home inspector can be difficult. Unlike most professionals, you probably will not get to meet me until after you hire me. Furthermore, different inspectors have varying qualifications, equipment, experience, reporting methods, and yes, different pricing. One thing for sure is that a home inspection requires work, a lot of work. Ultimately a thorough inspection depends heavily on the individual inspector's own effort. If you honor me by permitting me to inspect your new home, I guarantee that I will give you my very best effort.&nbsp;<br/><font>&nbsp;<br/></font></p><p><font>Our Services</font></p><div class="content"><ul><li><font>Buyers inspections</font></li><li>Sellers Inspections</li><li>Rental Inspections</li><li>Thermal Imaging</li><li>Thermal Imaging Inspections for Commercial, Industrial and Manufacturing</li><li>Home Maintenance Inspections</li><li>Mold Inspections</li><li>Mold Testing</li><li>Insurance Inspections</li><li>Drive By Photo Only</li></ul></div><p><br/>Licensed by the State of Illinois; License #450.002145<br/></p>