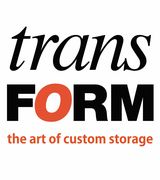 New York, NY, Westchester County, NY (10 years experience)
Specialties:

Interior Design,
Custom Designed Built Cabinetry
Add personality to your profile! Tell the community about yourself, your home, and your profession.
transFORM provides custom storage solutions serving the NYC Metro Areas of NY - NJ - CT - designed, crafted, and installed, for every room in your home - closets, dressing rooms, home offices, libraries, wall units, pantries, media centers, mudrooms, utility rooms, playrooms, garages, and more.
transFORM was founded by Stuart Reisch and Andreas Messis in 2005. Their experience and expertise in interior design, building construction and the closet industry made their dream of forming a company that creates truly custom high end home storage a reality. transFORM is dedicated to ensuring the company's completed projects set them apart from competitors and are shown off by their customers to guests.
The transFORM business model was created to meet the desires of discerning customers. We are distinguished by professional and considerate customer service and beautifully crafted custom storage systems. Our talented designers focus on both the home and the homeowner to ensure wants and needs are addressed when a concept is presented. Innovative design with a refined vision is made possible by an expansive selection of the finest materials, finishes, upgrades and accessories available, resulting in solutions that fit the available space, activities and personal tastes of the customer. The transFORM team that makes it all happen includes our diligent and organized office staff, a skilled and professional team of designers, the technically proficient operations and engineering group and of course… great installers!
transFORM is proud to design, engineer and manufacture the amazing jobs we install across the Greater NYC Metropolitan Area at our New Rochelle, New York location. transFORM's 30,000 sq ft manufacturing facility and beautiful showroom at 20 Jones Street, New Rochelle, NY 10801 is centrally located to the NYC Metro areas of NY, NJ and CT that we serve. In addition to our New Rochelle Showroom, our products can be seen at our new showrooms in Brooklyn at 309 Atlantic Avenue, Brooklyn, NY, 11201 and in Manhattan at 200 Lexington Avenue, NY, NY, 10016.
We invite you to take a look at the reviews our many satisfied customers have posted on Yelp, Angie's List, and Houzz.com. We are proud to belong to the Association of Closet and Storage Professionals, the American Society of Interior Designers (ASID), and the Cabinet Makers Association.
Visit the company's web site at
http://www.transformhome.com/
or call (914) 500-1000 to schedule a Free in-home design consultation and see what transFORM can do for you.
More
Less
About transFORM Home: <div class="text_exposed_root text_exposed">transFORM provides custom storage solutions serving the NYC Metro Areas of NY - NJ - CT - designed, crafted, and installed, for every room in your home - closets, dressing rooms, home offices, libraries, wall units, pantries, media centers, mudrooms, utility rooms, playrooms, garages, and more.<br/><br/>transFORM was founded by Stuart Reisch and Andreas Messis in 2005. Their experience and expertise in interior design, building construction and the closet industry made their dream of forming a company that creates truly custom high end home storage a reality. transFORM is dedicated to ensuring the company's completed projects set them apart from competitors and are shown off by their customers to guests.<br/><br/> The transFORM business model was created to meet the desires of discerning customers. We are distinguished by professional and considerate customer service and beautifully crafted custom storage systems. Our talented designers focus on both the home and the homeowner to ensure wants and needs are addressed when a concept is presented. Innovative design with a refined vision is made possible by an expansive selection of the finest materials, finishes, upgrades and accessories available, resulting in solutions that fit the available space, activities and personal tastes of the customer. The transFORM team that makes it all happen includes our diligent and organized office staff, a skilled and professional team of designers, the technically proficient operations and engineering group and of course&hellip; great installers!<br/><br/> transFORM is proud to design, engineer and manufacture the amazing jobs we install across the Greater NYC Metropolitan Area at our New Rochelle, New York location. transFORM's 30,000 sq ft manufacturing facility and beautiful showroom at 20 Jones Street, New Rochelle, NY 10801 is centrally located to the NYC Metro areas of NY, NJ and CT that we serve. In addition to our New Rochelle Showroom, our products can be seen at our new showrooms in Brooklyn at 309 Atlantic Avenue, Brooklyn, NY, 11201 and in Manhattan at 200 Lexington Avenue, NY, NY, 10016.<br/><br/> We invite you to take a look at the reviews our many satisfied customers have posted on Yelp, Angie's List, and Houzz.com. We are proud to belong to the Association of Closet and Storage Professionals, the American Society of Interior Designers (ASID), and the Cabinet Makers Association.<br/><br/> Visit the company's web site at <a rel="nofollow" href="http://www.transformhome.com/">http://www.transformhome.com/</a> or call (914) 500-1000 to schedule a Free in-home design consultation and see what transFORM can do for you.</div>