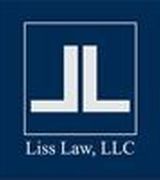 Attorney
Specialties:

Legal
Add personality to your profile! Tell the community about yourself, your home, and your profession.
Avi Liss, an entrepreneur since birth, developed Liss Law, LLC to incorporate his passion for the law with his life-long commitment to assisting people. As the founding partner of Liss Law, LLC, Avi brings a wide range of experiences, including small business representation, bankruptcy work, all facets of real estate transactions, debt negotiations, mortgage modifications, simple will drafting, and other general legal issues.
Avi has worked in both the public and private sector of bankruptcy. He has worked under two Federal Bankruptcy Judges, interning under the Honorable Joan N. Feeney, and served as law Clerk to the Honorable Stephen S. Mitchell. While serving as a Judge Mitchell's law clerk, Avi handled a broad spectrum of bankruptcy cases and issues, and was exposed to one of the largest airline chapter 11 reorganizations in U.S. history. Additionally, Avi spent a summer serving as an intern to the Department of Justice's United States Trustee Program in Boston. Prior to his pursuits in the bankruptcy field, Avi worked at a successful real estate law firm in Boston, and excelled as a real estate salesman prior to attending law school. Avi currently holds his real estate broker's license and enjoys assisting both buyers and sellers in the full life-span of a purchase / sale.
A native Bostonian, Avi has also lived in Washington DC, once as an undergraduate student at George Washington University, and another as the law clerk to the Honorable Stephen S. Mitchell, US Bankruptcy Court for the Eastern District of Virginia. Avi has also lived abroad with his wife in Tel Aviv, Israel.
A graduate from the School of Business and Public Management at the George Washington University in Washington D.C. with a degree in Small Business Management and Entrepreneurship, Avi returned back to Boston to complete his legal education. Avi received his Juris Doctor from Suffolk University Law School, where he was a member of the Journal of Trial and Appellate Advocacy as well as a board member of the Suffolk University Moot Court Board, and a competitor in several moot court competitions.
More
Less
About Avi Liss: <br/><br/><p>Avi Liss, an entrepreneur since birth, developed Liss Law, LLC to incorporate his passion for the law with his life-long commitment to assisting people. As the founding partner of Liss Law, LLC, Avi brings a wide range of experiences, including small business representation, bankruptcy work, all facets of real estate transactions, debt negotiations, mortgage modifications, simple will drafting, and other general legal issues.</p><p>Avi has worked in both the public and private sector of bankruptcy. He has worked under two Federal Bankruptcy Judges, interning under the Honorable Joan N. Feeney, and served as law Clerk to the Honorable Stephen S. Mitchell. While serving as a Judge Mitchell's law clerk, Avi handled a broad spectrum of bankruptcy cases and issues, and was exposed to one of the largest airline chapter 11 reorganizations in U.S. history. Additionally, Avi spent a summer serving as an intern to the Department of Justice's United States Trustee Program in Boston. Prior to his pursuits in the bankruptcy field, Avi worked at a successful real estate law firm in Boston, and excelled as a real estate salesman prior to attending law school. Avi currently holds his real estate broker's license and enjoys assisting both buyers and sellers in the full life-span of a purchase / sale.</p><p>A native Bostonian, Avi has also lived in Washington DC, once as an undergraduate student at George Washington University, and another as the law clerk to the Honorable Stephen S. Mitchell, US Bankruptcy Court for the Eastern District of Virginia. Avi has also lived abroad with his wife in Tel Aviv, Israel.</p><p>A graduate from the School of Business and Public Management at the George Washington University in Washington D.C. with a degree in Small Business Management and Entrepreneurship, Avi returned back to Boston to complete his legal education. Avi received his Juris Doctor from Suffolk University Law School, where he was a member of the Journal of Trial and Appellate Advocacy as well as a board member of the Suffolk University Moot Court Board, and a competitor in several moot court competitions.</p><br/><br/>