As mortgage rates have risen above 4 percent, buying a home has become less affordable as monthly payments are rising due to interest rates and home value appreciation. At Zillow, we measure affordability by looking at how much of a person's monthly income is spent on a mortgage payment. To that end, we measure median household income and compare that to the median home value in a given metro, as well as the prevailing mortgage rates at the time.
Annual home value appreciation peaked in August, and has fallen slightly since then.  Many metro areas that led the housing recovery have slowed down, yet are still seeing monthly gains.  Mortgage rates have hovered over 4 percent, which is a marked difference from the under 4 percent interest rates seen over the past two years.
Overall, the U.S. is still below its historic average (20 percent), with 2013 Q3 affordability at 15 percent of income spent on mortgage payments.  For the U.S., affordability has slightly decreased since 2013 Q2, when new homeowners spent 13 percent of their income on a mortgage.  The U.S. is forecasted to remain more affordable than historic average affordability, as long as interest rates remain below 7 percent over the next year – an extremely likely scenario. Mortgage rates are currently forecasted to remain below 5 percent for the entirety of 2014, which would indicate that, on a national level, homes will remain more affordable compared to historic averages over the next year.
However, there are many metro areas in which homes are less affordable than the historic average of income devoted to monthly payments.  As of 2013 Q3, 19 out of 239 metro areas covered are less affordable than their historic average.  Many of these areas are on the West Coast and have seen large gains in home values throughout 2013.  The metros with the lowest affordability are Santa Cruz (44.2 percent of income devoted to monthly payments), San Francisco (40.2 percent), Los Angeles (39.3 percent) and San Luis Obispo (38 percent).  Nine out of the ten most expensive metro areas are in California.  Honolulu, HI is the only metro area outside of California that breaks into the top ten at seventh, with monthly payments at 35.7 percent of median income. The following figure shows different scenarios of affordability in the 30 largest metro areas covered by Zillow.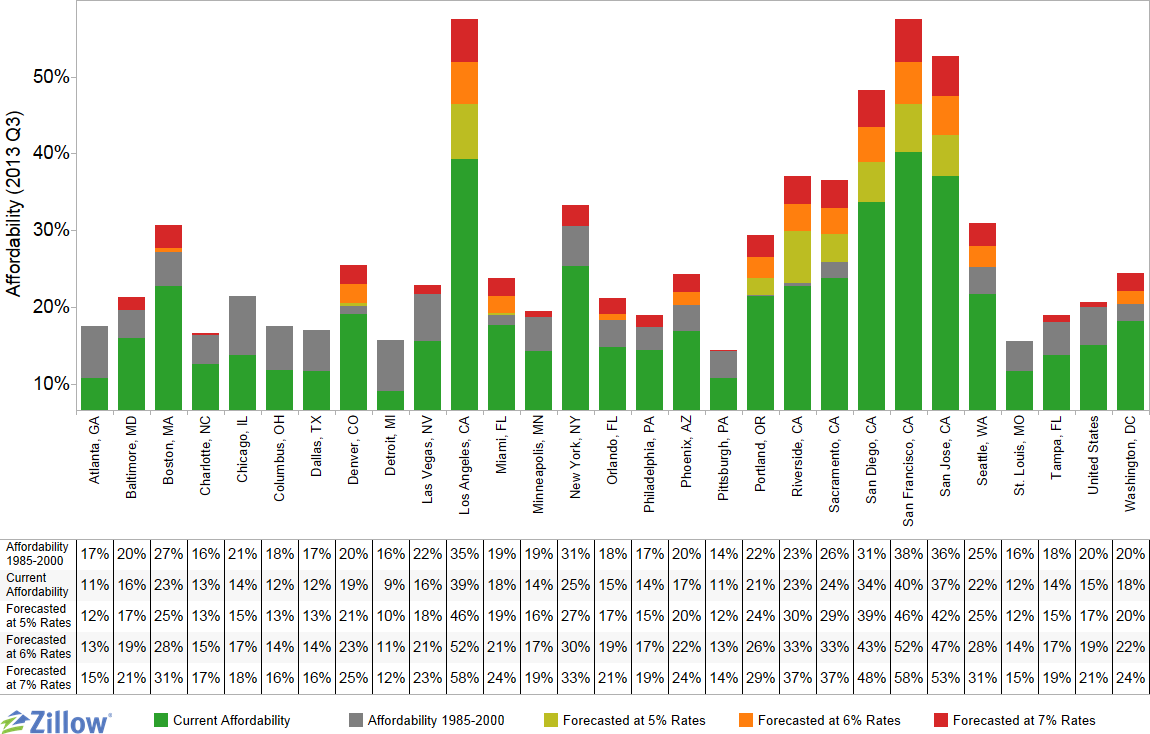 With mortgage rates forecasted to stay below 5 percent, the vast majority of metro areas are expected to have affordability remain below their historic averages over the next year.  At 5 percent interest rates, we forecast 49 metro areas will be less affordable than their historic average affordability. Use the map below to explore affordability levels across the county.


Methodology:
To calculate an affordability index, we first calculate the mortgage payment for the median house price in a metropolitan area by using the metro-level Zillow Home Value Index for a given quarter and the 30-year fixed mortgage rate during that time period, which is provided by the Freddie Mac Primary Mortgage Market Survey (based on a 20 percent down payment). Then we consider what portion of the monthly median household income goes toward this monthly mortgage payment. The affordability forecast is calculated similarly to the current affordability index but uses the one year Zillow Home Value Forecast instead of the Zillow Home Value Index and a specified interest rate in lieu of PMMS. It also assumes a 20 percent down payment.