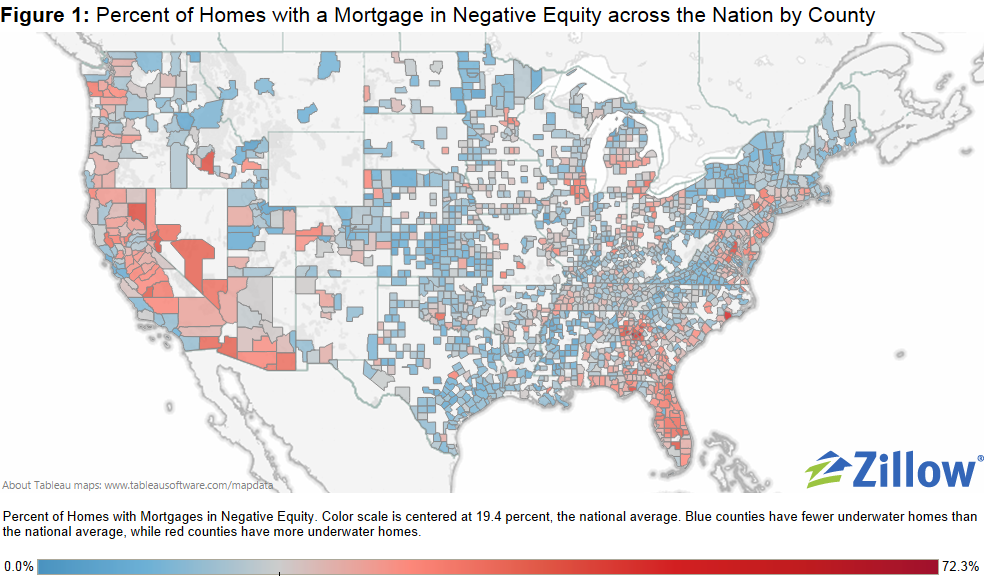 According to the fourth quarter Zillow Negative Equity Report, the national negative equity rate dipped below 20 percent to 19.4 percent for the first time in years, thereby reducing negative equity by roughly a third from its 31.4 percent peak in the first quarter of 2012. Negative equity has fallen for seven consecutive quarters as home values have risen, freeing almost 3.9 million homeowners nationwide in 2013. The national negative equity rate fell from 27.5 percent of all homeowners with a mortgage as of the end of the fourth quarter of 2012, and 21 percent in the third quarter. However, more than 9.8 million homeowners with a mortgage still remain underwater (Figure 1). Moreover, the effective negative equity rate nationally — where the loan-to-value ratio is more than 80 percent, making it difficult for a homeowner to afford the down payment on another home — is 37.6 percent of homeowners with a mortgage. While not all of these homeowners are underwater, they have relatively little equity in their homes, and therefore selling and buying a new home while covering all of the associated costs (real estate agent fees, closing costs and a new down payment) would be difficult (Figure 2). Of all homeowners – roughly one-third of homeowners do not have a mortgage and own their homes free and clear – 13.7 percent are underwater.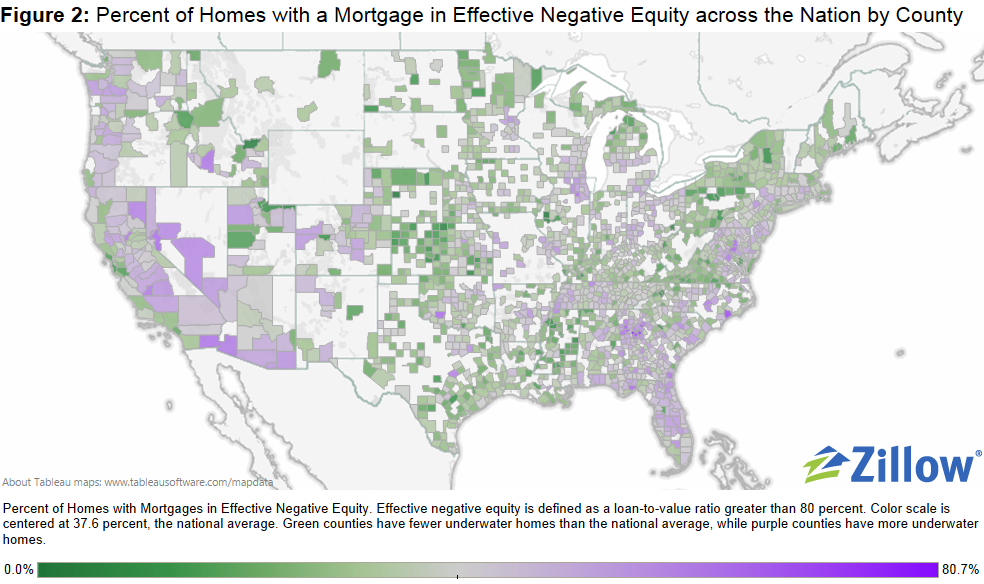 2013 was a good year for regaining some of the home value losses that homeowners had to endure during the housing bust, which meant it was also a good year for reducing negative equity. (Figure 3) Some of the hardest-hit markets during the housing bust have been showing the highest rates of home value appreciation and have also worked down large amounts of negative equity. Sacramento, for example, halved its negative equity over the last year from 41.7 percent to 20.5 percent.
In our last research brief on negative equity, we talked through the evolution of negative equity and how it limits for-sale inventory. Another good outcome of the reduction of negative equity has been slowly increasing inventory, which we have observed starting in mid-2013. Figure 4 shows national for-sale inventory that has been seasonally adjusted and smoothed.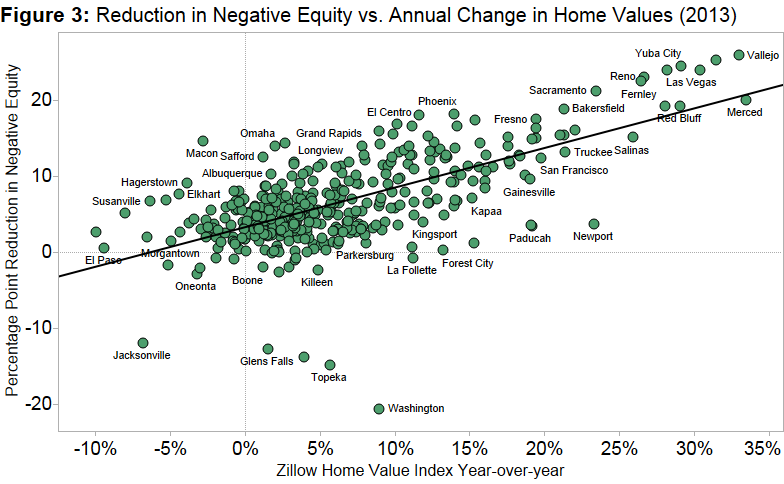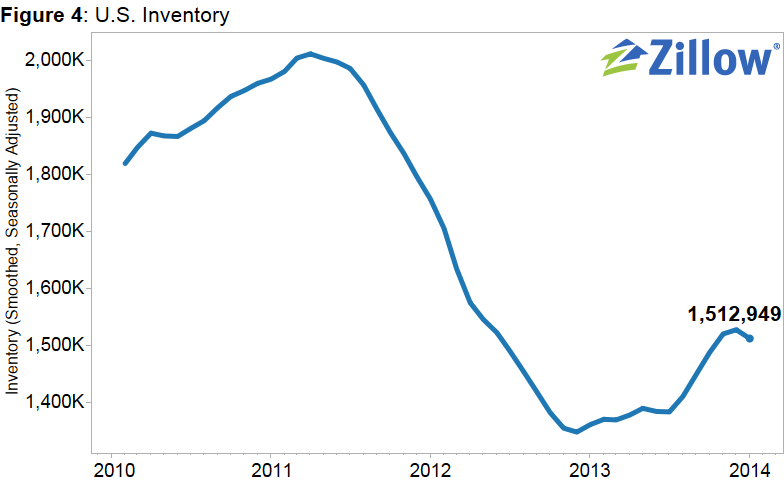 Markets that saw the highest levels in home value appreciation in December included Las Vegas (28.1 percent), Riverside (28 percent), Sacramento (23.4 percent), Detroit (21 percent) and San Francisco (19.7 percent). These markets also saw big quarterly declines in negative equity and therefore an uptick in inventory. (Figure 5) Furthermore, continued foreclosure liquidations are also driving down the negative equity rate, albeit this impact has been slowing as fewer homes are being foreclosed on. Despite these incredible improvements in negative equity, the level is still very high and will remain high as deeply underwater homeowners are slowly being lifted toward positive equity. This is a process that will take several years – especially in the hardest-hit markets – to work off the high levels of negative equity.
Figure 6 shows the loan-to-value (LTV) distribution for homeowners with a mortgage in 2013 Q4 versus 2012 Q4. Even though many homeowners are still underwater and haven't crossed the 100 percent LTV threshold to enter into positive equity, they are moving in the right direction. With the moderation in home value appreciation that started in late 2013 and is expected to carry well into 2014, the reduction in the rate of negative equity will also slow going forward. Since its peak, Phoenix's negative equity rate dropped by 35.8 percentage points, Las Vegas' dropped by 35.9 percentage points and Sacramento's dropped by 30.7 percentage points. However, nationally the effective negative equity rate remains very high at 37.6 percent. In a move-up market, homeowners with less than 20 percent equity will effectively still be "locked" out of the resale market. On average, a U.S. homeowner in negative equity owes $73,405 more than what the house is worth, or 39.7 percent more than the home's value (Table 1). While roughly a fifth of homeowners with a mortgage are underwater, 92 percent of these homeowners are current on their mortgage payments.
The Zillow Negative Equity Report incorporates mortgage data from TransUnion, a global leader in credit and information management, to calculate various statistics. The report includes, but is not limited to, negative equity, loan-to-value ratios and delinquency rates. To calculate negative equity, the estimated value of a home is matched to all outstanding mortgage debt and lines of credit associated with the home, including home equity lines of credit and home equity loans. All personally identifying information ("PII") is removed from the data by TransUnion before delivery to Zillow. Overall, this report covers more than 650 metros, 1,900 counties and 20,000 ZIP codes across the nation.
Regional Trends
As described earlier, home value appreciation has been the main factor driving down negative equity rates, specifically in very hard-hit states such as California, Florida, Nevada, Arizona and Georgia. There has been a negative equity feedback loop, as regions with high negative equity have experienced acute inventory shortages brought on in part by locked-in underwater homeowners, and these shortages in turn have produced home value appreciation spikes, which have been reducing negative equity at a fast pace. In 2014, we expect the rate at which negative equity is reduced to decrease significantly as home value appreciation is also expected to moderate, in many cases dropping to half the home value appreciation rates seen in 2013. This is especially worrisome for some markets that still have a very high rate of negative equity, such as Atlanta, Las Vegas and Orlando.
However as long as there is home value appreciation, negative equity will continue to be reduced. Most importantly the very deeply underwater homeowners will continue to be slowly moved towards positive equity territory. In the Phoenix metro, the percentage of homeowners with a mortgage who owed more than double what their houses were worth was reduced from 7.6 percent to 2.8 percent from 2012 Q4 to 2013 Q4, which can be seen in Figure 7. In the Las Vegas metro, 6.5 percent of homeowners with a mortgage owe more than twice the amount of their homes' value. This number compares favorably to how deeply underwater Las Vegas homeowners were a year ago. In 2012 Q4, 18.6 percent of homeowners with a mortgage owed more than double (see Figure 8). On the metro level there is wide variation in negative equity, with the percentage of underwater borrowers ranging from 0.3 percent to 50.5 percent. Furthermore, there is wide variation in how deeply homeowners are underwater. Figure 9 provides an overview of the distribution of the loan-to-value ratio for the largest metropolitan areas (a loan-to-value ratio greater than 100 percent means that the homeowner is underwater).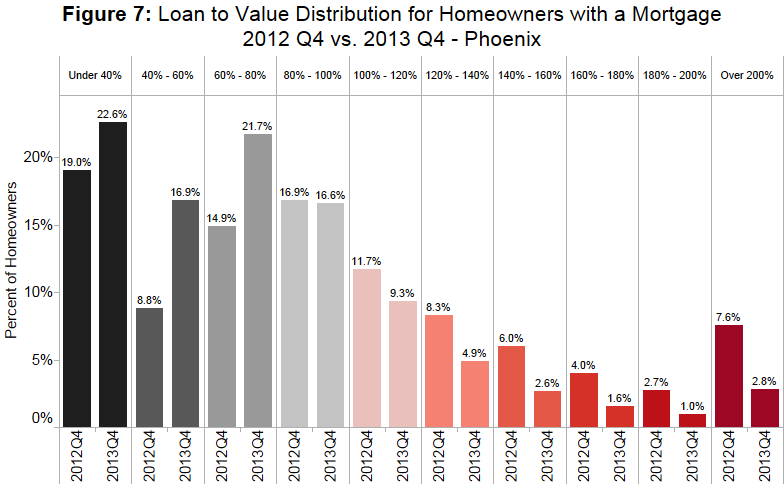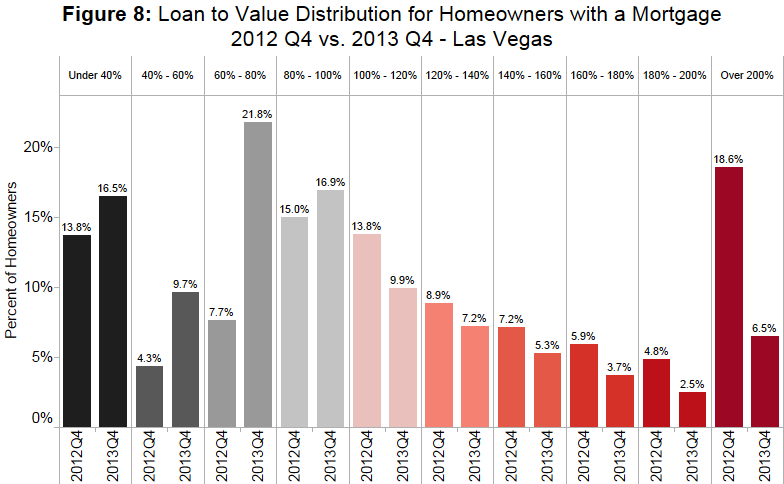 While negative equity makes a household more vulnerable to foreclosure, most homeowners in negative equity will not end up in default. The majority of underwater homeowners continue to make regular payments on their mortgages, with only 8 percent, down from 9.7 percent a year ago, of underwater homeowners being delinquent. This implies that 1.5 percent of all homeowners with a mortgage are at high risk for foreclosure near-term. Figure 10 shows a breakdown of these numbers for the top 35 metros.
Forecast
The Zillow Negative Equity Forecast predicts the negative equity rate among all homeowners with a mortgage will fall to at least 17.2 percent by Q4 2014. However, the Zillow Negative Equity Forecast is a conservative estimate of what negative equity rates will be a year from now. To forecast negative equity, we take the current home value of a house and appreciate it by the Zillow Home Value Forecast (ZHVF) for the MSA in which the home is located. In cases where there is no ZHVF available, we use the historical rate of home appreciation, and for metros that don't have a historical rate of appreciation we use the historical rate of inflation at the national level. For homes that are not located in a metropolitan area, we use the forecasted national rate of appreciation. To calculate the level of home equity a year from now, we use the forecasted home value and the current outstanding debt balance, where we make no assumptions about a homeowner's debt level a year from now. We also make no assumptions about foreclosure activity in the coming year. Therefore, this forecast is a very conservative one, as homeowners will likely continue to pay down their debt throughout the year, and homes will likely continue to be foreclosed on, and both of these factors will contribute to a lower negative equity rate. The Zillow Negative Equity Forecast can therefore be considered a higher bound estimate of negative equity.
Outlook
Over the past year, we have clearly seen the impact of negative equity on the market. We have described how negative equity limits the available for-sale inventory in the marketplace, which in turn has produced extreme rates of home value appreciation. Negative equity will continue to impact the real estate market, especially as mortgage rates rise and home value appreciation tempers, and this in turn will slow the decline in negative equity. 2014 will see a lot more moderation. Home value appreciation will continue to decline, negative equity rates will also decline, albeit at lower speeds, and inventory will continue to rise, giving many buyers another chance in the market if they were sidelined last year. This moderation is necessary, especially as some markets are now less affordable than they historically have been.
Overall, negative equity will remain with us for the foreseeable future, especially in hard-hit markets. Our home value forecast calls for 4.8 percent appreciation for 2014 and given this forecast, we expect that negative equity rates will continue to decrease in the next year to a rate of, at most, 17.2 percent by Q4 2014.
Download Zillow Negative Equity 2013 Q4 Data