Overview
Zillow's fourth quarter Real Estate Market Reports show home values increased 1.4% from the third quarter of 2013 to the fourth quarter of 2014 to $169,100 (Figure 1). 2013 closed on a strong note with the Zillow Home Value Index (ZHVI) up 6.4% from December 2012 levels (Figure 2). On a monthly basis, home values are up 0.6% nationally. Overall, we are seeing a widening slow-down in home value appreciation with some markets showing more of a slow-down than other markets. In fact, of all metros 83% reported lower monthly appreciation in December than in November (seasonally adjusted), and of the top 35 metros, seven showed monthly home value depreciation. This slowdown was expected, and shouldn't come as a surprise, as home values have been growing at an unsustainable pace in 2013, especially in many markets in California and the Southwest. Affordability had been decreasing in light of higher home values and rising mortgage rates and is now starting to put the brakes on these extremely high rates of appreciation.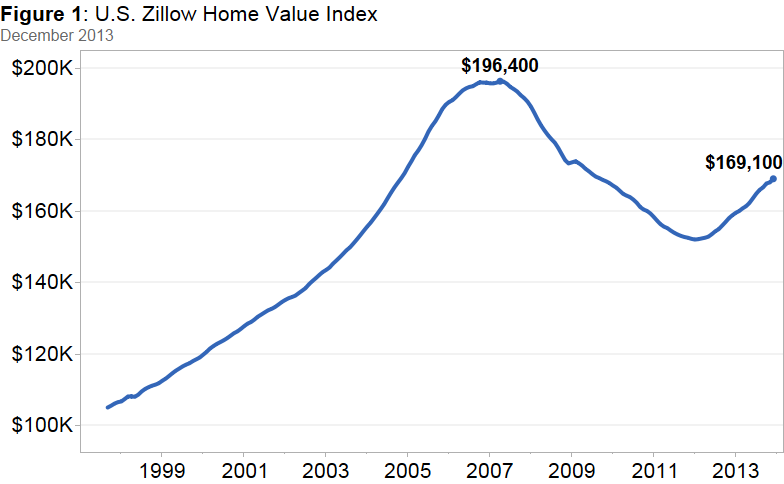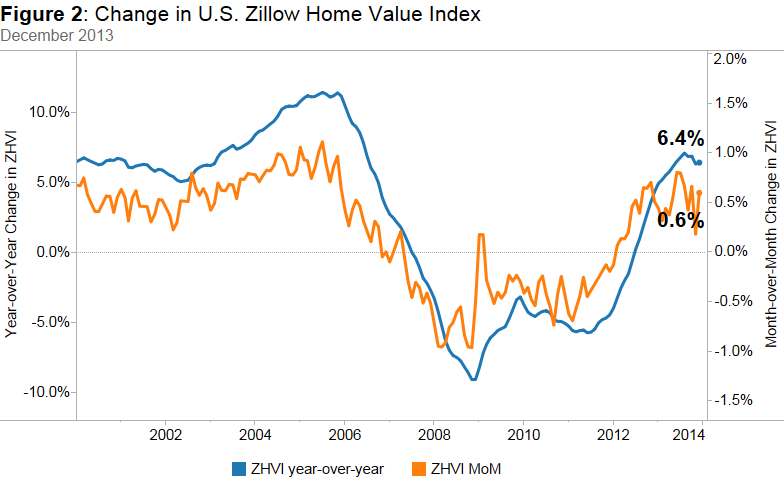 According to the Zillow Home Value Forecast (ZHVF), we expect national home values to increase 4.8% over the next year (December 2013 to December 2014). Of the 291 markets covered by the Zillow Home Value Forecast, 265 markets are expected to see increases in home values over the next year, with the largest increases expected in the Riverside metro (16.1%) and the Sacramento metro (11.6%). Many California markets follow closely at the top of the list of markets expected to see the highest home value appreciation over the next year. According to the ZHVF, 265 markets (91%) have already hit a bottom in home values, another 25 are expected to hit a bottom by December 2014. 2014 will bring more for-sale supply to the market, as homeowners are freed from being underwater and demand will be a bit more muted as investors are decelerating their buying activity and rising mortgage rates are putting a damper on consumer demand.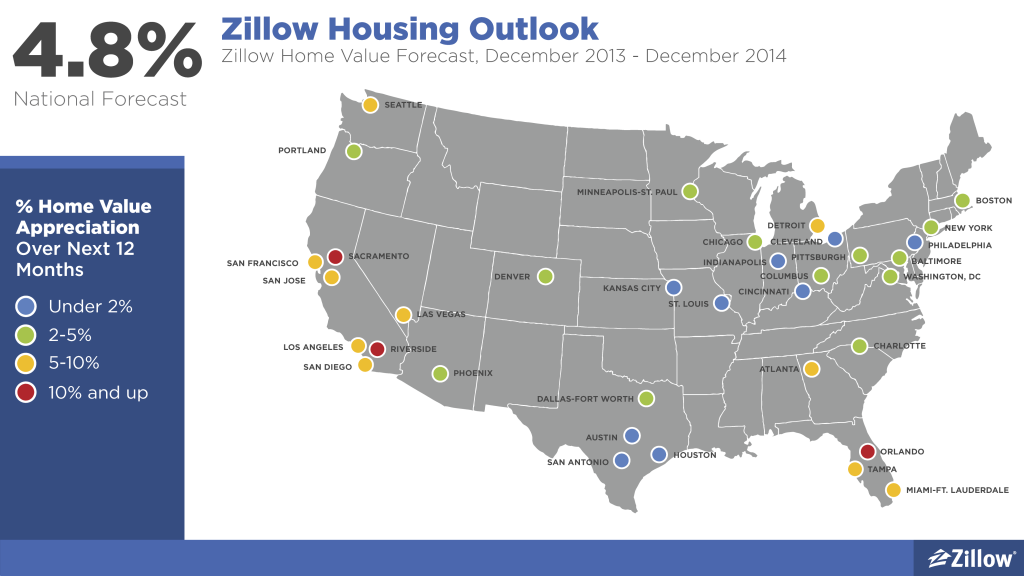 Home Values
The Zillow Real Estate Market Reports cover 473 metropolitan and micropolitan areas (metros) of which 316 showed quarterly home value appreciation. Eight metros remained flat, while 149 metros show home values losses. Approximately 82% of the metros covered by the Real Estate Market Reports posted annual increases in home values. Among the largest metros, Las Vegas showed the largest annual increase with home values rising 28.1% from the fourth quarter of 2012 to the fourth quarter of 2013. Las Vegas was one of the metros hardest hit during the housing recession and home values are still down 45.3% from their May 2006 peak, despite the recent extreme increases in home values. Overall, national home values are back to November 2004 levels, down 13.9% since their peak in April 2007.  Also notable is that home values in two of the top 35 metros, Denver and Pittsburgh ended 2013 above their pre-recession peaks. This is in addition to many cities (versus the larger metropolitan regions), like San Francisco, Washington and Boston that have also surpassed their 2006 peaks.
Rents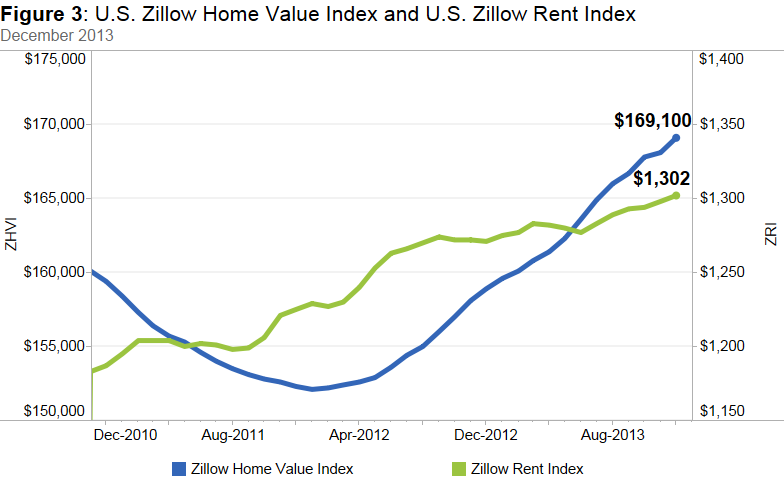 The Zillow Rent Index (ZRI) covers 521 metro areas, and 73% of those metros reported annual increases in rents in December. As a point of comparison, approximately 82% of the metro areas covered by the ZHVI experienced annual home value increases. Nationally, rents increased 2.4% in December from year-ago levels. We expect rents to continue with this growth trend as many households are still unraveling from being doubled up and many of those new households will choose to rent instead of buy. Markets that continue to see extremely strong year-over-year rent increases include Cincinnati (9.2%), Denver (8.4%), Pittsburgh (8.3%) and Seattle (8.1%).

Foreclosures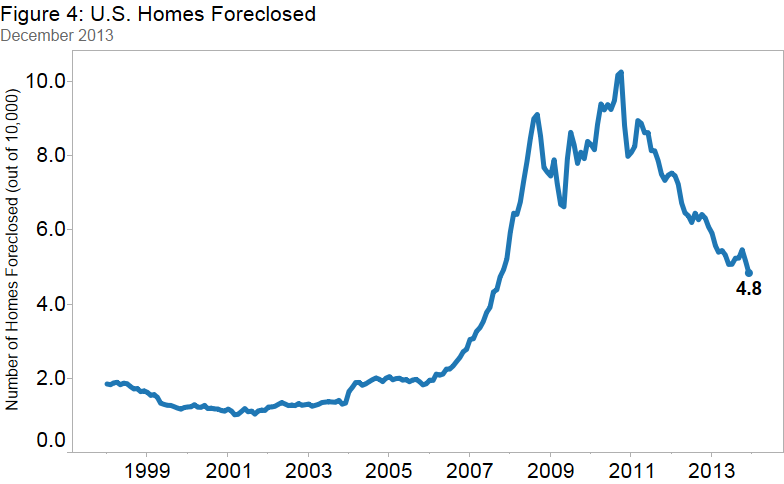 The rate of homes foreclosed continued to decline in December with 4.84 out of every 10,000 homes in the country being liquidated through foreclosure. With home values having appreciated for almost two years, foreclosures are naturally becoming less and less common. Nationally, foreclosure re-sales ticked up slightly, making up 9.3% of all sales in December, down 0.5 percentage points from the fourth quarter of 2012. The absolute number of foreclosure re-sales continues to drop, but this measure is a percentage of REO sales to all sales and given that during the winter months the number of sales decline, foreclosure re-sales are taking up a larger portion on those sales – increasing this seasonal measure. For-sale inventory levels remain tight in many markets; although constraints have been easing as negative equity rates decrease. The national negative equity rate stood at 21% in the third quarter of 2013 with only 8% (down from 9.7% a year ago) of underwater homeowners being delinquent.
Outlook
Nationally home values have started to slow since the breakneck pace of this summer. We expect this slowdown to carry into 2014, although some volatility in home values will accompany this slowdown. Nationwide, home values are expected to rise another 4.8% through December 2014, according to the Zillow Home Value Forecast. But local market conditions will not necessarily follow national conditions, a trend that may cause confusion and uncertainty among homebuyers and sellers. And while Zillow expects all but one of the nation's 35 largest metro areas (St. Louis, -3.1%) to show appreciation this year, the expected annual appreciation (depreciation) rates vary from -3.1% in St. Louis to 16.1% in Riverside among the top 30 metros. None will approach the often breakneck pace set in 2013. 2014 will also see rising mortgage rates. However, there is a silver lining to this development, as rising mortgage rates will hopefully also encourage banks to make more credit available.
Data Resources
Forecast Graphic: Zillow Home Value Forecast
Figure 1: Zillow Home Value Index
Figure 2: Zillow Home Value Index Summary
Figure 3: Zillow Home Value Index, Zillow Rent Index
Figure 4: Homes Foreclosed (out of 10,000)