Overview
Zillow's first quarter Real Estate Market Reports show home values increased 0.5 percent from the fourth quarter of 2013 to $169,800 (Figure 1). The Zillow Home Value Index (ZHVI) climbed 5.7 percent from March 2013 levels (Figure 2). On a monthly basis, home values are up 0.2 percent nationally. The slow-down we have been observing for the last few months is continuing and is especially prominent in the metros hardest hit by the recession. Despite this slowdown, seven of the largest 35 metros in the U.S. have already exceeded or will exceed their bubble peak levels by March of next year. While reaching peak levels in and of itself is not a noteworthy occurrence since we expect nominal home values to always be at their peak, six of these metros have exceeded their bubble peaks in real dollars and have eliminated the value impact of the housing bubble. As we closely watch this development, we are also concerned about affordability in some areas. Strong home value gains over the last two years, especially in California, have eroded affordability and without significant growth in incomes, we expect that some future adjustment in home values will have to happen.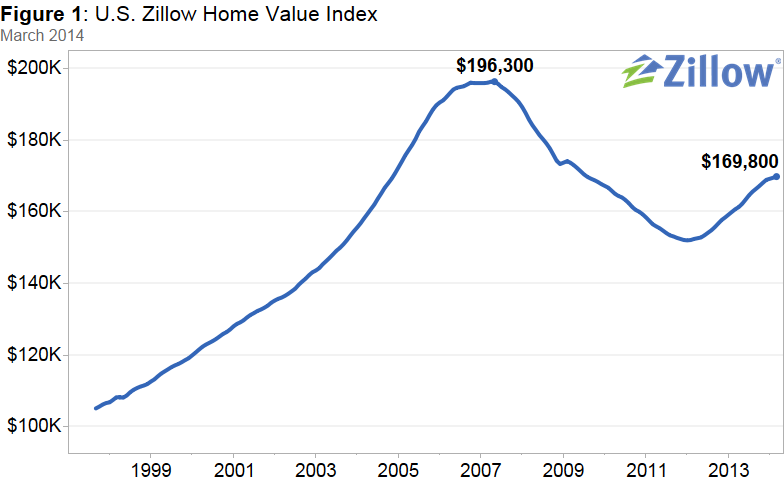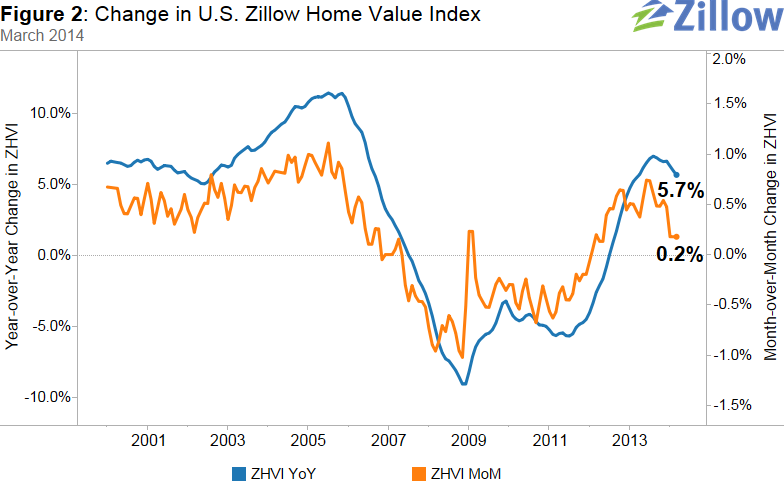 According to the Zillow Home Value Forecast (ZHVF), we expect national home values to increase 3.3 percent over the next year (March 2014 to March 2015). Of the 301 markets covered by the Zillow Home Value Forecast, 282 markets are expected to see increases in home values over the next year, with the largest increases expected in the Riverside metro (12.0 percent) and the Orlando metro (8.2 percent). Many California markets follow closely at the top of the list of markets expected to see the highest home value appreciation over the next year. According to the ZHVF, 60 of 301 markets (20 percent) are expected to exceed their peak by March 2015.
Home Values
The Zillow Real Estate Market Reports cover 508 metropolitan and micropolitan areas (metros) of which 301 showed quarterly home value appreciation. Sixteen metros remained flat, while 191 metros show home values losses. Approximately 82 percent of the metros covered by the Real Estate Market Reports posted annual increases in home values. Among the largest metros, Riverside showed the largest annual increase with home values rising 23.3 percent from the first quarter of 2013 to the first quarter of 2014. Riverside was one of the metros hardest hit during the housing recession and home values are still down 34.9 percent from their June 2006 peak, despite the recent extreme increases in home values. Overall, national home values are back to December 2004 levels, down 13.5 percent since their peak in May 2007. Also notable is that home values in seven of the top 35 metros, San Jose, Austin, Dallas, Denver, Pittsburgh, San Antonio and Houston, are above their pre-recession peaks or will exceed them in the next year (Figure 6). This is in addition to many cities (versus the larger metropolitan regions), like San Francisco, Washington and Boston that have also surpassed their pre-recession peaks.
Rents
The Zillow Rent Index (ZRI) covers 855 metro areas, and 74.3 percent of those metros reported annual increases in rents in March. As a point of comparison, approximately 82 percent of the metro areas covered by the ZHVI experienced annual home value increases. Nationally, rents increased 2.7 percent in March from year-ago levels. We expect rents to continue with this growth trend as many households are still unraveling from being doubled up, and many of those new households are choosing to rent instead of buy as household formation numbers are stronger on the rental side than they are on the owner side. Markets that continue to see extremely strong year-over-year rent increases include Cincinnati (9.6 percent), Pittsburgh (8.7 percent), Austin (7.6 percent) and San Jose (7.5 percent).
Foreclosures
The size of the distressed market continues to shrink as the recovery progresses and solidifies further. The rate of homes foreclosed continued to decline in March, with 4.89 out of every 10,000 homes in the country being liquidated through foreclosure. With home values having appreciated for almost two years, foreclosures are naturally becoming less and less common. Nationally, foreclosure re-sales declined slightly, making up 10.3 percent of all sales in March, down 0.3 percentage points from the first quarter of 2013.
Inventory
Nationwide, the number of homes listed for sale on Zillow was down 0.5 percent annually in March (smoothed, seasonally adjusted series), after having increased on a monthly basis late last year for several months in a row. Inventory rose on an annual basis in 337 out of 648 metros Zillow covers with inventory data. Despite increasing inventory levels, in most metros inventory is still not back to normal levels. As a result, we will still likely see bidding wars over what inventory is available in 2014. These conditions significantly favored sellers in 2013. Buyers will find themselves with more negotiating power this year, but many regions in the U.S. are still dominated by seller markets. Sellers in the West will likely have the upper hand in negotiations when selling their home, while buyers in Midwestern and East Coast metros will likely face less competition and have more room for bargaining on prices. We define a sellers' market as not necessarily one where home values are rising, but rather one in which homes are on the market for a shorter time, price cuts occur less frequently and homes are sold at prices very close to (or greater than) their last listing price. In buyers' markets, homes for sale stay on the market longer, price cuts occur more frequently and homes are sold for less relative to their listing price. With decreasing negative equity rates, inventory restrictions will continue to ease a bit. The national negative equity rate stood at 19.4 percent in the fourth quarter of 2013.
Outlook
The national slowdown in home value appreciation will continue throughout 2014, although some volatility in home values will accompany this slowdown. Nationwide, home values are expected to rise another 3.3 percent through March 2015, according to the Zillow Home Value Forecast. But local market conditions will not necessarily follow national conditions, a trend that may cause confusion and uncertainty among homebuyers and sellers. Risk factors to this recovery continue to include employment and income growth, which will impact affordability and housing demand going forward. Inventory restrictions will also be helped by new construction, which is being severely underbuilt right now. We usually see triple the rate of new construction that we are currently experiencing during "normal" times. With mortgage rates rising only very slowly – we expect the 30-year fixed mortgage to now reach 5 percent by the end of 2014 – we don't think consumer demand will be significantly impacted. The continuing unraveling of doubled up households will also ensure solid household formation and household demand going forward.