Zillow's April Real Estate Market Reports show that national home values fell 0.1 percent from March 2014 to April 2014 to $170,200 (Figure 1). On a year-over-year basis, home values were up 5.3 percent (Figure 2) from April 2013. The last time national home values were at this level was in December 2004. Rents were up 2.3 percent on a year-over-year basis (Figure 3). The Zillow Home Value Forecast calls for 2.2 percent appreciation nationally from April 2014 to April 2015 – roughly a third of the appreciation we saw in 2013.
While many markets are still experiencing above-normal rates of home value growth, a general slowdown in appreciation is evident. Among the nation's 35 largest metros, all but St. Louis and Kansas City experienced year-over-year home value increases in April. Those with the most notable annual increases include Riverside (22.4 percent), Las Vegas (22.1 percent), Sacramento (16.5 percent) and Orlando (16.4 percent).
Inventory levels continue to be tight across the nation. In April, U.S. inventory of for-sale homes declined year-over-year by 0.4 percent. More than half of metros experienced a decrease in inventory levels on an annual basis. In many metros, inventory shortages are driven by fewer homes for sale in the bottom third of the market by value (Figure 6).
Home Values
The April Zillow Real Estate Market Reports cover 510 metropolitan and micropolitan areas. In April, 262 (51 percent) of the 510 markets showed monthly home value appreciation, and 410 (80 percent) saw annual home value appreciation. Among the 35 largest metro areas covered by Zillow, 12 exhibited monthly depreciation and two were flat in April. The biggest declines were in San Antonio (-0.9 percent) and Chicago (-0.7 percent). Overall, national home values are still down 13.3 percent from their peak in May 2007.
Rents
The Zillow Rent Index (ZRI) covers 854 metropolitan and micropolitan areas and shows year-over-year gains for 626 metropolitan areas covered by the ZRI. Currently, national rents are up 2.3 percent year-over-year. Large markets that saw extremely strong annual rent appreciation include San Jose (9.4 percent), Cincinnati (7.8 percent), Austin (7.7 percent) and San Francisco (7.4 percent).
Foreclosure
The rate of homes foreclosed continued to decline in April, with 4.6 out of every 10,000 homes in the country being liquidated. The last time it was at this rate was in September 2007. Nationally, foreclosure re-sales also continued to fall, making up 9.7 percent of all sales in April (Figure 4), compared to 10.3 percent in March.
Nationwide, the number of homes listed for sale on Zillow was down 0.4 percent annually in April on a seasonally adjusted basis, the fourth straight month in which inventory has declined (see Figure 5). Inventory rose on an annual basis in almost 48 percent of metros covered by Zillow. Despite some increases in inventory levels, in most metros inventory is still not back to normal levels. As a result, we will likely still see bidding wars over what inventory is available in 2014, but probably much less than in 2013. These conditions will be particularly acute at the lower end of the market, where inventory continues to be tight. For example, only 15.9 percent of the inventory available for sale in Denver right now comes from the bottom third of the housing stock by value, whereas close to 60 percent of homes available for purchase are top-tier homes. Of the largest metros, most saw very few for-sale homes come from the bottom tiers, and more so from the top tiers (Figure 6).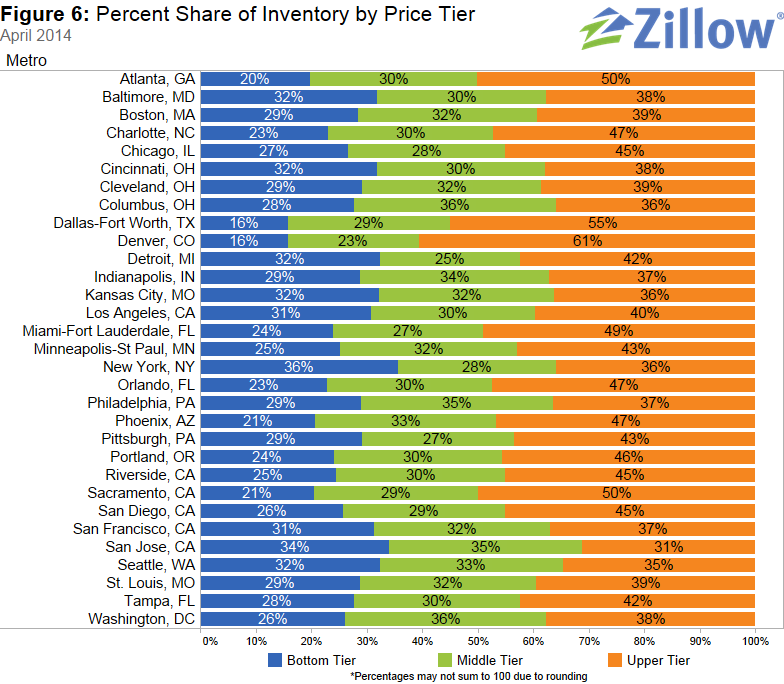 Outlook

Despite a recovering housing market and a return to more normal rates of appreciation, we still face headwinds. The following remain risk factors to the recovery: 1) Negative equity rates remain high, with 18.8 percent of mortgaged homeowners nationwide underwater. Negative equity is especially focused among the least expensive homes, which is having an adverse effect on inventory in the bottom tier. 2) Household formation is still low by historical standards. 3) Housing affordability is an issue in select markets where home values have increased much more than incomes, despite the positive effect of low mortgage rates. Rental affordability, however, is an issue in the majority of metros, as rental rates have consistently climbed without experiencing a rental bust period. Slowing home value appreciation and future employment and income growth will help in staving off future housing affordability issues in much of the nation. Our forecast calls for another 2.2 percent appreciation from April 2014 to April 2015, which is slightly below historical appreciation rates. Still, 96 out of the 302 markets covered are forecasted to experience home value appreciation of 3 percent or higher over the next 12 months, showing that pockets of locally-high appreciation will persist for a while.