In the latest Zillow Home Price Expectations Survey released Feb. 12, over 100 experts predicted moderated appreciation in future home values, closer to the pre-bubble norms of 3 to 5 percent per year.  On average, the panel predicted national appreciation of 4.5 percent through the fourth quarter of 2014. Over the same period, the Zillow Home Value Forecast predicts 4.8 percent appreciation nationwide.  Over a longer term, the panel predicted a cumulative change in home values of 19.7 percent through the end of 2018, on average.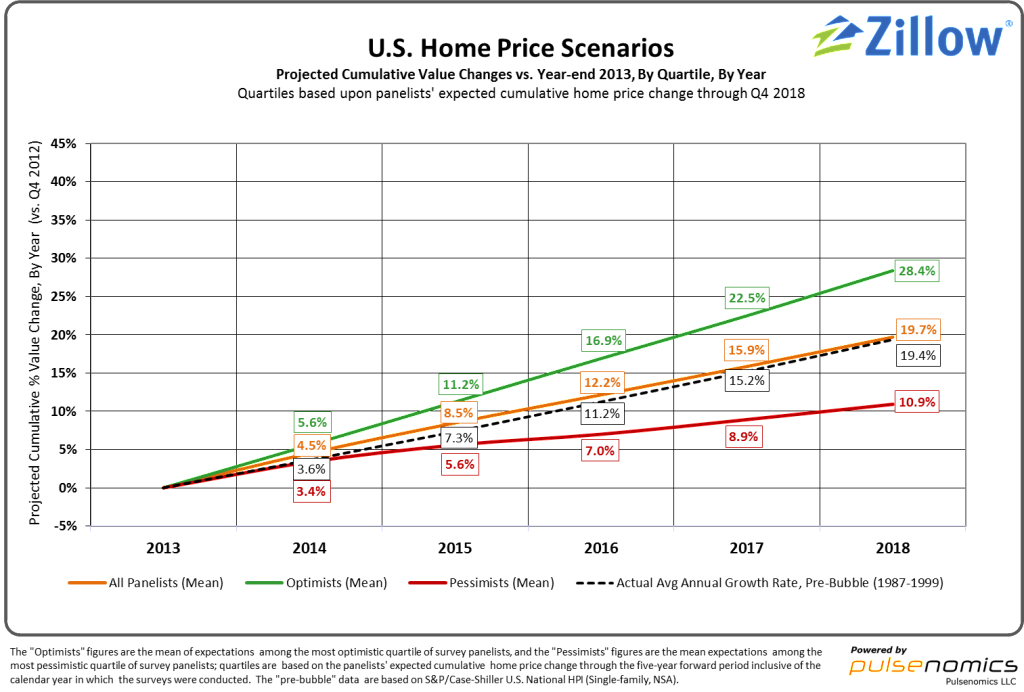 The survey of 110 economists, real estate experts and investment and market strategists asked panelists to predict the path of the U.S. Zillow Home Value Index through 2018 and solicited opinions on investor activity and federal monetary policy. The survey was sponsored by Zillow and is conducted quarterly by Pulsenomics LLC.
On an annual basis, the panelists predicted home value appreciation to slow to 3.8 percent in 2015 and 3.3 percent by 2018. Overall, the panel predicted an average annual pace of 3.7 percent appreciation for the next five years. These rates of appreciation are much more in line with pre-housing bubble appreciation rates averaging  3.6 percent annually from 1987 to 1999, compared to the average of 7 percent annual appreciation rate experienced from 2000 to 2007 (Figure 2).  It is also a marked slowdown from the 6.4 percent nationwide appreciation experienced by the U.S. in 2013.  Using current home values and expectations, the appreciation rates predicted in the survey would mean that median U.S. home values could exceed their April 2007 peak by the first quarter of 2018 and may surpass the $200,000 threshold by the third quarter of 2018.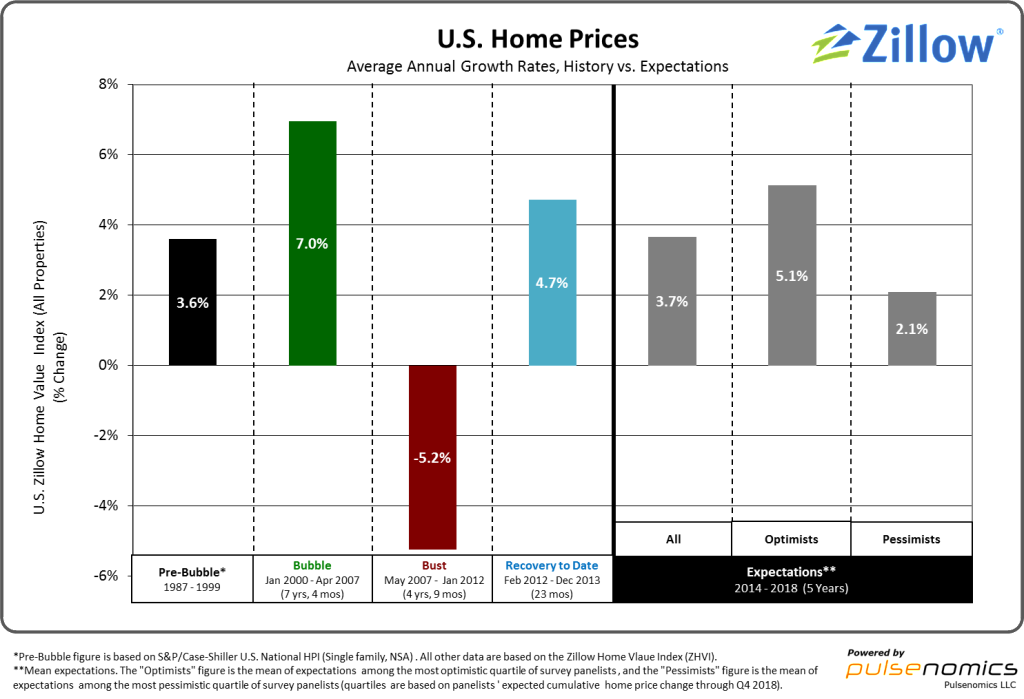 Panelists were also asked their opinion of what would happen if institutional investors were to scale back their activity in the coming year.  Throughout the recovery, large-scale investors have purchased thousands of homes nationwide, particularly lower-priced vacant and foreclosed homes, fixing them up and keeping them in their portfolios as rental properties. This investor activity helped keep sales volumes high, but also contributed to a shortage of homes for sale and rapid price spikes in some areas, which squeezed out many would-be buyers. Overall, for-sale inventory in 2013 was much lower than in 2010 or 2011, causing bidding wars in many areas with high demand for homes, such as Seattle and San Francisco.
Among the panelists expressing an opinion on institutional investors, 79 percent said the impact of institutional investors pulling back in 2014 would be significant or somewhat significant.   Fifty-seven percent said they thought that investors would sell the majority of homes in their portfolios in the next three to five years.  If this happens, it will have the effect of raising inventory as more homes come on the market.  Also, buyers would be less likely to be competing with all-cash offers from investors when trying to purchase a home.