Zillow's July Real Estate Market Reports show that national home values rose 0.2 percent in July 2014 from June 2014 to $174,800 (Figure 1). On a year-over-year basis, home values were up 6.5 percent (Figure 2) from July 2013. The last time national home values were at this level was in March 2005. Rents were up 2.8 percent on a year-over-year basis (Figure 3). The Zillow Home Value Forecast calls for 2.7 percent appreciation nationally from July 2014 to July 2015.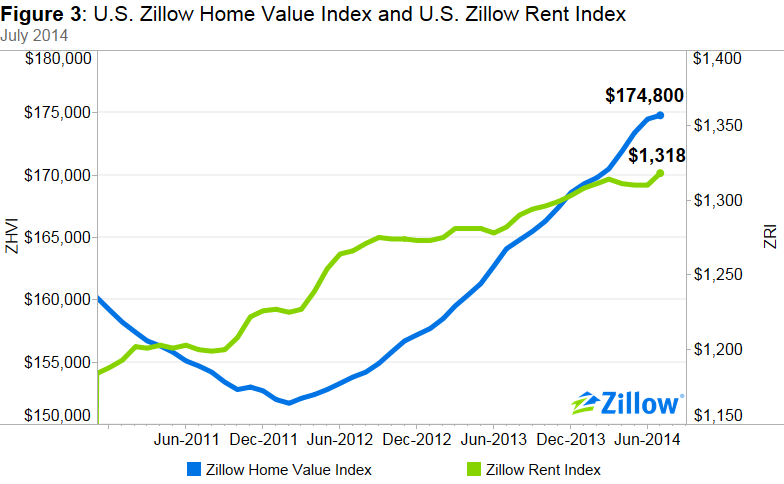 While many markets are still experiencing above-normal rates of home value growth, a general slowdown in appreciation is evident. Among the nation's 35 largest metros, all but Indianapolis experienced year-over-year home value increases in July. Those with the most notable annual increases include Las Vegas (17.4 percent), Riverside (16.5 percent), Miami-Fort Lauderdale (15.8 percent) and Atlanta (14.9 percent). These metros experienced especially pronounced real estate boom and busts and are now recovering with the same extreme home value swings.
In general, for-sale inventory levels continue to be tight nationwide, although inventory has been on the rise. In July, U.S. inventory of for-sale homes grew year-over-year by 21.4 percent. Exactly 543 of 645 metros experienced an annual increase in inventory levels. In many markets, inventory shortages are driven by fewer homes for sale in the bottom third of the market by value (Figure 4).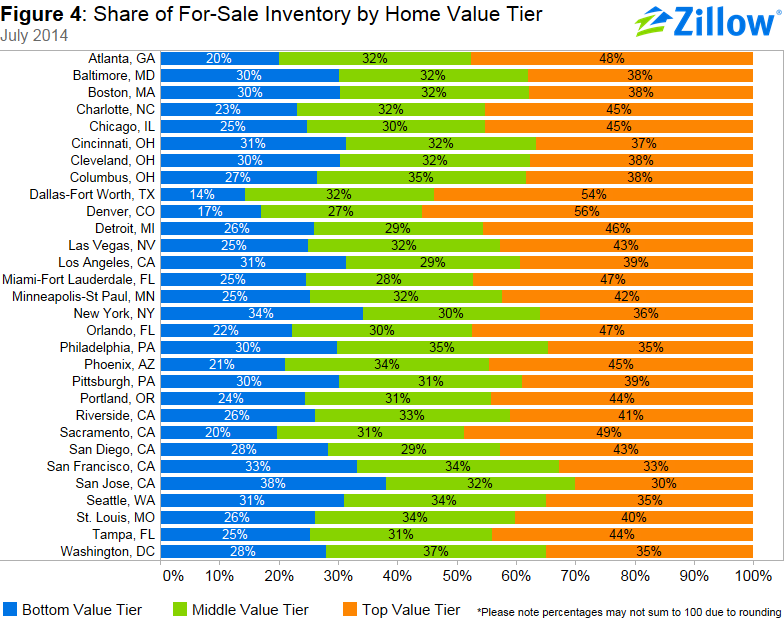 Homes remain more affordable to buy in 94 of country's 100 largest metros compared to historic averages. But renting is more expensive than ever in 88 of the country's 100 largest markets. Affordability remains an issue in many California markets, where rental and for-sale affordability is lower than it used to be by historical standards.
Home Values
The July Zillow Real Estate Market Reports cover 477 metropolitan and micropolitan areas. In July, 266 (56 percent) of the 477 markets showed monthly home value appreciation, and 395 (85 percent) saw annual home value appreciation. Among the 35 largest metro areas covered by Zillow, 8 exhibited monthly depreciation and two (Chicago and Columbus) were flat in July. The biggest declines were in Kansas City (-0.9 percent) and Indianapolis (-0.5 percent). Overall, national home values are still down 11.1 percent from their peak in March 2007.
Rents
The Zillow Rent Index (ZRI) covers 867 metropolitan and micropolitan areas and shows year-over-year gains for 672 metropolitan areas covered. Currently, national rents are up 2.8 percent year-over-year. Large markets that saw extremely strong annual rent appreciation include San Jose (15.1 percent), San Francisco (13.5 percent), Pittsburgh (12.9 percent) and Denver (9.4 percent). In some of the markets, strong rental appreciation is also accompanied by strong home value appreciation driven by an influx of workers and fairly strong income growth. For example, San Jose and San Francisco have seen strong job market developments, especially in the tech sector.
Foreclosures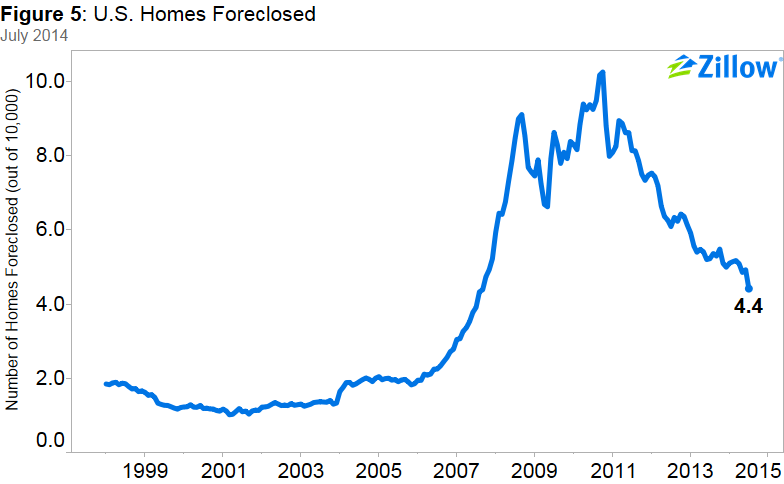 The rate of homes foreclosed continued to decline in July, with 4.4 out of every 10,000 homes in the country being liquidated. Nationally, foreclosure re-sales also continued to fall, making up 7.4 percent of all sales in July (Figure 5), compared to 7.9 percent in June.
Affordability
Rental affordability is currently much worse than mortgage affordability, largely because rents didn't experience the huge drop seen in home values during the recession, and instead have just kept their upward trajectory. Nationally, renters signing a lease at the end of the second quarter paid 29.5 percent of their income to rent, compared to 24.9 percent in the pre-bubble period. In 88 of the nation's largest metro areas, renters should currently expect to pay a larger share of their income toward rent than they would have historically.
Thanks mostly to low mortgage interest rates, affordability of for-sale homes looks much better. U.S. home buyers at the end of the second quarter could expect to pay 15.3 percent of their incomes to a mortgage on the typical home, far less than the 22.1 percent share homeowners devoted to mortgages in the pre-bubble days. As of June, home buyers in just six of the country's 100 largest metro markets were paying a larger portion of their incomes today than historically in order to buy their area's median-priced home.
But mortgage rates are expected to rise in the coming year. When mortgage rates hit 5 percent, still very low by historical standards, the number of unaffordable metros for homeowners among the top 100 will more than double, to 13. At 6 percent mortgage interest rates, the number of unaffordable metros will almost double again, to 24.
Outlook
The housing recovery remains on track, especially in markets with strong employment growth. Some of these markets are even seeing home value appreciation that has gotten so strong that affordability levels are currently or may soon fall below historical standards. Continued income growth will help those markets going forward. Our forecast calls for another 2.7 percent appreciation from July 2014 to July 2015, which is slightly below historical appreciation rates. Still, 139 out of the 294 metro areas covered are forecasted to experience home value appreciation of 3 percent or higher over the next 12 months, showing that pockets of locally-high appreciation will persist for a while.