For millions of Americans, owning one's own home is a fundamental part of the American Dream. It's a goal shared equally among all people, regardless of race or ethnic origin. But while the goal is equally shared, the path to reaching that goal, and even experiences once homeownership is achieved, can be radically different among those races.
In this report, Zillow and the National Urban League examined recent trends in minority access to housing, outlining the different experiences among races when seeking a mortgage and buying and owning a home. We discovered a number of areas in which outcomes for minority groups, particularly blacks and Hispanics, differ greatly from those of white Americans. To perform our analysis we relied on Home Mortgage Disclosure Act (HMDA) data, Zillow Home Value Index data and unique information obtained from a survey performed by Ipsos for the purposes of this study.
To download the full report click here.
To download this executive summary click here.
Background
At a fundamental level, it is important to understand the characteristics and resources with which each group approaches the lending and homeownership process. Different education levels among races, higher or lower incomes and varying credit scores all inevitably shape the home buying and homeownership experiences. There is not sufficient information in the HMDA data nor in the survey data to determine if any of the findings in this report reflect illegal discrimination. Rather, it is these critical differences in qualifications and resources among whites, blacks, Asians and Hispanics that undoubtedly help explain a majority of the findings related to the differences in outcomes by race.
In both the HMDA data and the survey data, blacks and Hispanics had a lower average income, as seen in Figure 1. Blacks and Hispanics who apply for a mortgage are also much more likely to have a lower credit score compared to whites and Asians. In addition, we found that of the surveyed Americans, Asians are much more likely to have achieved a higher level of education, which also contributes to their higher incomes.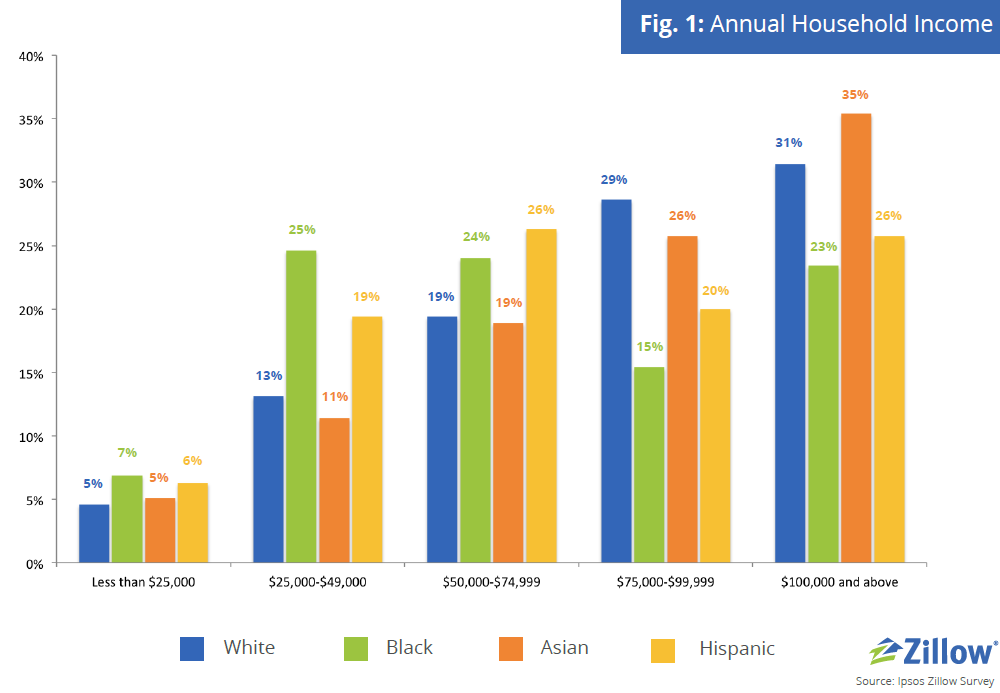 These unequal incomes naturally lead to stark differences in the amount of down payment that different races are able to afford. Blacks are much more likely to put down 5 percent or less as a down payment, while a majority of Hispanics contribute 6 percent or more towards a down payment. Asians are more likely to have down payments of 20 percent or higher. Figure 2 shows the distribution of down payment amount by race.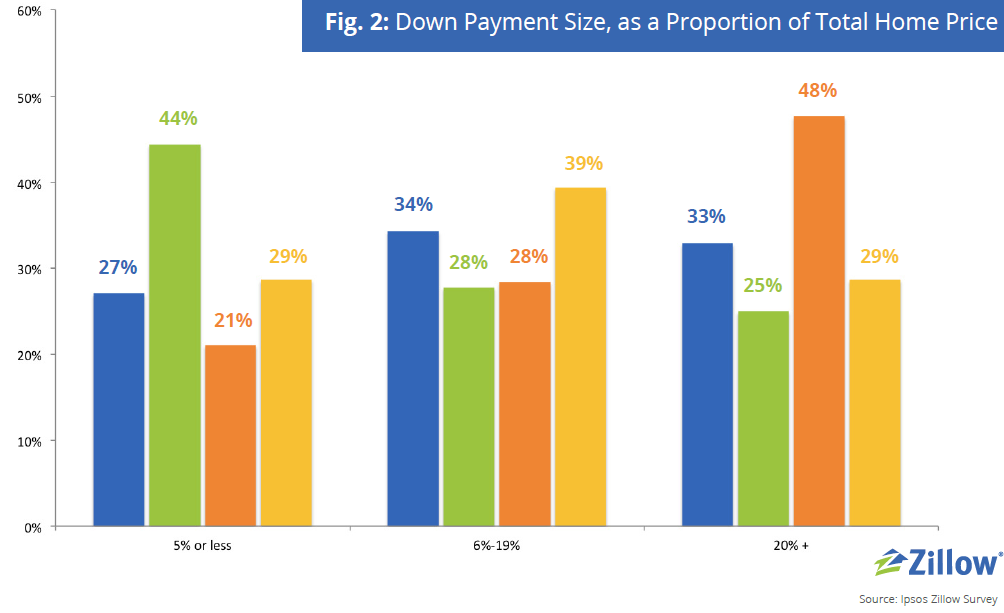 Experience
Regarding diversity in the home mortgage application experience, we found that blacks and Hispanics are less likely to apply for a mortgage to make a home purchase in the first place, and much less likely to be approved for one than whites and Asians. While blacks make up 12.1 percent of the U.S. population, they filed only 6 percent of all mortgage purchase applications in 2012. Hispanics make up 17.3 percent of the population and filed 9.4 percent of the applications. In contrast, whites make up 63 percent of the U.S. population and filed 64.8 percent of purchase applications. The differences are primarily seen within the conventional mortgage market. The racial and ethnic composition of FHA loan applications is much more similar to the racial and ethnic composition of the nation as a whole. Blacks and Hispanics are much more likely to apply for an FHA mortgage than a conventional loan when purchasing a home as more than half of black applicants (57.4 percent) and 60.3 percent of Hispanic applicants applied for an FHA loan. In contrast, less than one-third (30.1 percent) of white applicants apply for an FHA loan. See Figure 3 for an overview.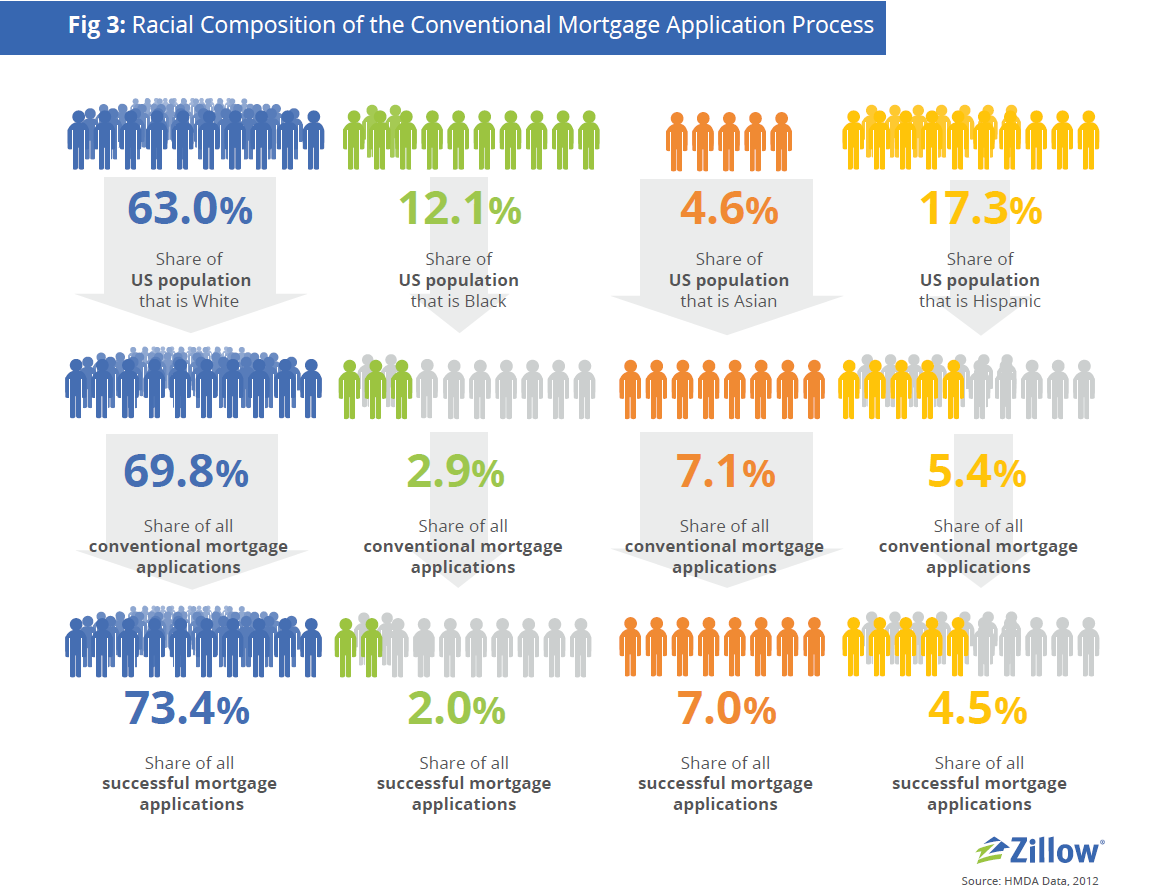 According to HMDA records, we also found that blacks and Hispanics are much more likely than whites to have their mortgage application denied. When applying for a conventional loan, black applicants are 2.4 times and Hispanic applicants are 1.98 times more likely than white applicants to be denied. When applying for an FHA loan, black applicants are 1.75 times more likely and Hispanic applicants are 1.47 times more likely than white applicants to be denied. These trends are shown in Figure 5.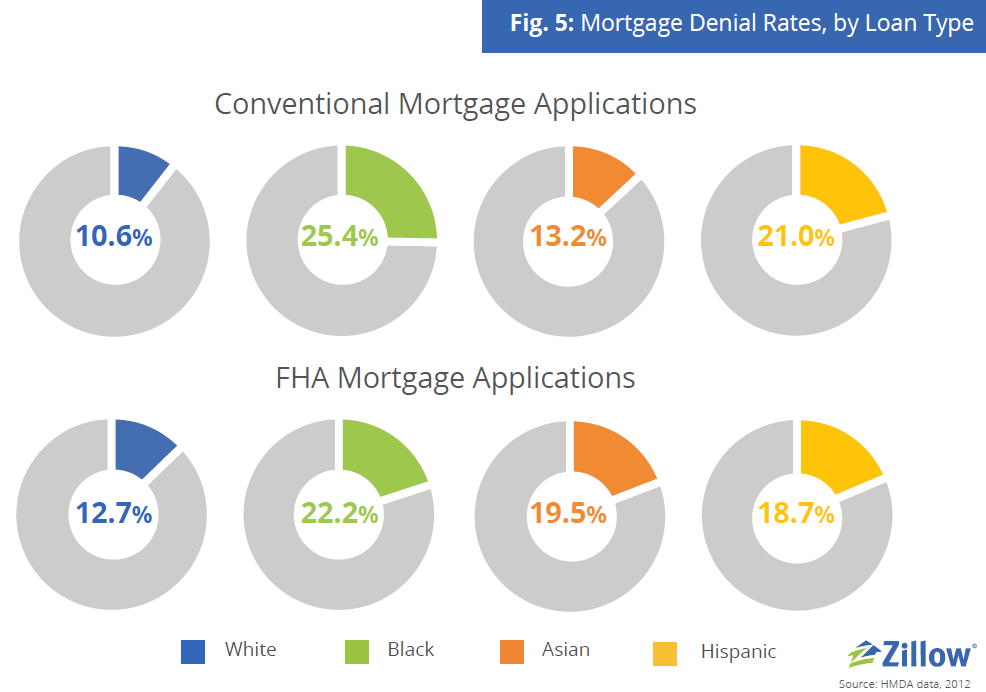 Overall, a majority of survey respondents from each race surveyed had a positive experience when applying for a mortgage (as indicated by a rating of more than 8 on a 1-10 scale). A minority within each race surveyed felt that their race had at least some influence on their experience of trying to obtain a mortgage, though it remains unknown if respondents felt their race had a positive or negative influence on their experience. Specifically, 37 percent of Hispanics, 33 percent of blacks, 25 percent of Asians and 14 percent of whites said they thought race was a contributing factor in their experience.
Respondents who said they felt race was a factor in their experience obtaining a mortgage were significantly more likely to have shopped around for multiple mortgage quotes. In general, Asians and Hispanics are more likely to have considered multiple loans from multiple lenders, while blacks are more likely to have considered multiple loans from the same lender. Hispanics and Asians are more likely to go with a lender who was recommended to them, while blacks and Hispanics are more likely to recommend their lender to a friend or family member. In addition, Asians and especially Hispanics are more likely to have two or more mortgage applications. Blacks and Hispanics are more likely to have their mortgage process take longer.
Differential impacts of the housing recession and recovery
Over the last 13 years, the nation underwent a steep run-up in home values, followed by a grueling collapse of that housing bubble. Now, more than two years after home values bottomed, a robust housing recovery is currently underway. However, not everyone experienced the housing boom and bust in the same way.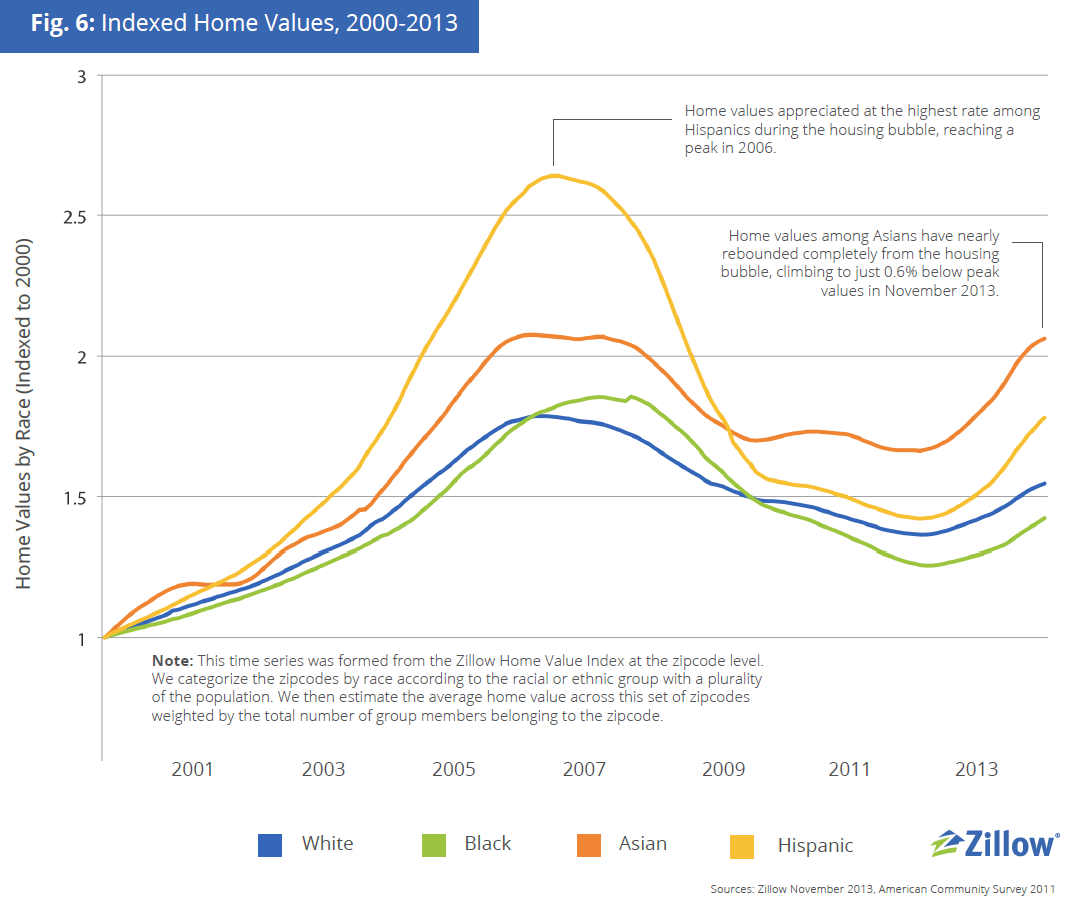 Hispanic communities (where Hispanic individuals make up a larger share of the population than any other group) were hit hardest by the housing boom and bust, with home values falling 46.2 percent from the height of the bubble to the bottom. Black communities, where black individuals make up a larger share of the population than any other group, were also hit hard, with home values dropping 32.3 percent over the same period. Drops of 23.6 percent and 19.9 percent were observed within white and Asian communities, respectively (see Figure 7).
For Hispanic communities, there has been something of a silver lining. Even though home values in Hispanic communities were hardest hit, they've been relatively faster to recover. Home values in Hispanic communities have increased 25.3 percent from the bottom over the past two years. Comparatively, home values in black communities have only increased 13.2 percent.
Figure 7 shows the difference in current home values relative to their post-recession bottom (i.e., the low point in home values subsequent to the boom-era peak), and clearly demonstrates how much faster Asian communities have rebounded. Asian communities are in full recovery, with current home values only 0.6 percent below their peak levels. Hispanic communities are forecasted to do the best over the next year in terms of home value growth. According to the Zillow Home Value Forecast, Hispanic communities will appreciate by 16.8 percent, Asian communities by 15.6 percent, white communities by 8.3 percent; and black communities by 8.5 percent.
Much of the drop and subsequent rise in home values can be attributed to the location of these communities. As Map 1 shows, many Asian communities are located on the West Coast, which has had an incredibly strong recovery. While Hispanic communities were hit incredibly hard, with many of them located in the "sand states" of California, Arizona and Nevada, they are rebounding well (see Map 2). As Map 3 shows, blacks are located in many cities nationwide that have had less robust housing recoveries, putting a damper on their forecasted growth.
Unfortunately, during the housing bust, homeowners not only lost an enormous amount of value in their homes, but were frequently foreclosed upon, losing their homes altogether. We examined changes in homeownership rates over the last decade. In 2011, 46.5 percent of blacks and 50.9 percent of Hispanics owned their home. The homeownership rate for whites was 73.9 percent. Ownership rates for white and Hispanics have hardly changed over the course of the last decade (-0.1 and 0.1 percentage points respectively). However, among blacks the ownership rate dropped 2.4 percentage points, while the homeownership rate of Asians increased by 2.4 percentage points (see Figure 4).
To view the full report, or download this executive summary please visit our reports page.