Zillow's October Real Estate Market Reports, released today, show that national home values declined 0.1% from September to October to $162,800 (Figure 1). On a year-over-year basis, home values were up 5.2% (Figure 2) from October 2012. The last time national home values were at this level was in October 2004. Rents were up 2.3% on a year-over-year basis (Figure 3), which is slightly stronger annual appreciation than what we saw in the summer months, but much lower than the pace set late last year. The Zillow Home Value Forecast calls for 2.7% appreciation nationally from October 2013 to October 2014 – a marked slowdown from the more than 5% appreciation we saw last year.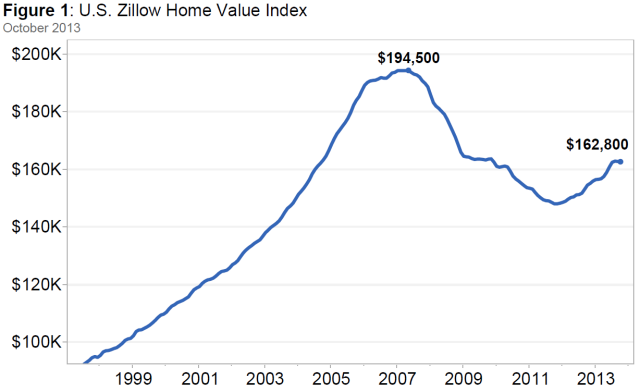 Sixty-nine out of the 254 markets covered are forecasted to experience home value appreciation of 3% or higher. Of the nation's 30 largest metro areas covered by Zillow, all experienced year-over-year home value increases in October, with more than half up by double-digit percentages. Metros with notable annual increases in October include Las Vegas (33.2%), Riverside (30.4%), Sacramento (30.4%), and San Francisco (24.1%). A third of the top 30 metros, however, also experienced monthly home value declines.
These annual and monthly trends are in line with a broad and robust housing recovery that is starting to slow down as home value appreciation rates fall back to more sustainable growth levels. Some markets will experience volatility in the coming years fueled by decreasing affordability, as mortgage rates rise, and increased supply of for-sale homes, as negative equity recedes and new construction increases.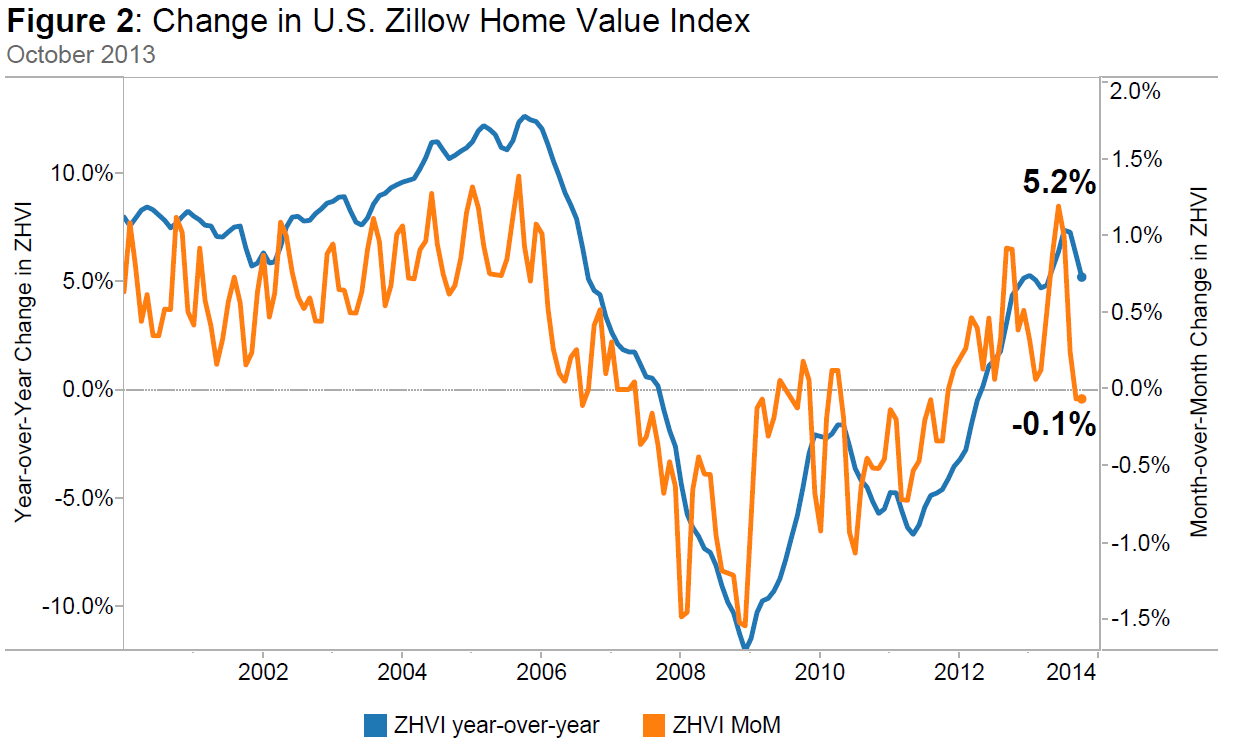 Rents
The October Zillow Real Estate Market Reports cover 388 metropolitan and micropolitan areas. In October, 181 (46.6%) of the 388 markets showed monthly home value appreciation, and 316 (81.7%) of the 388 markets saw annual home value appreciation. Among the 30 largest metro areas covered by Zillow, 10 exhibited monthly depreciation in October, and two more were flat. The biggest declines were in St. Louis (-0.9%), Pittsburgh (-0.7%), Dallas (-0.7%), and Baltimore (-0.7%). Overall, national home values are still down 16.3% from their peak in May 2007.
The Zillow Rent Index (ZRI) covers 492 metropolitan and micropolitan areas and shows year-over-year gains for 348 metropolitan areas covered by the ZRI. Currently national rents are up 2.3% on a year-over-year basis, which is a significant slowdown from 5% to 6% annual appreciation during summer 0f 2012 (Figure 3), but a slight uptick from the annual appreciation rates we saw just a few months ago. Large markets that saw extremely strong annual rent appreciation include Denver (8.1%), New York (7.1%), Columbus (6.2%), and San Jose (6.1%).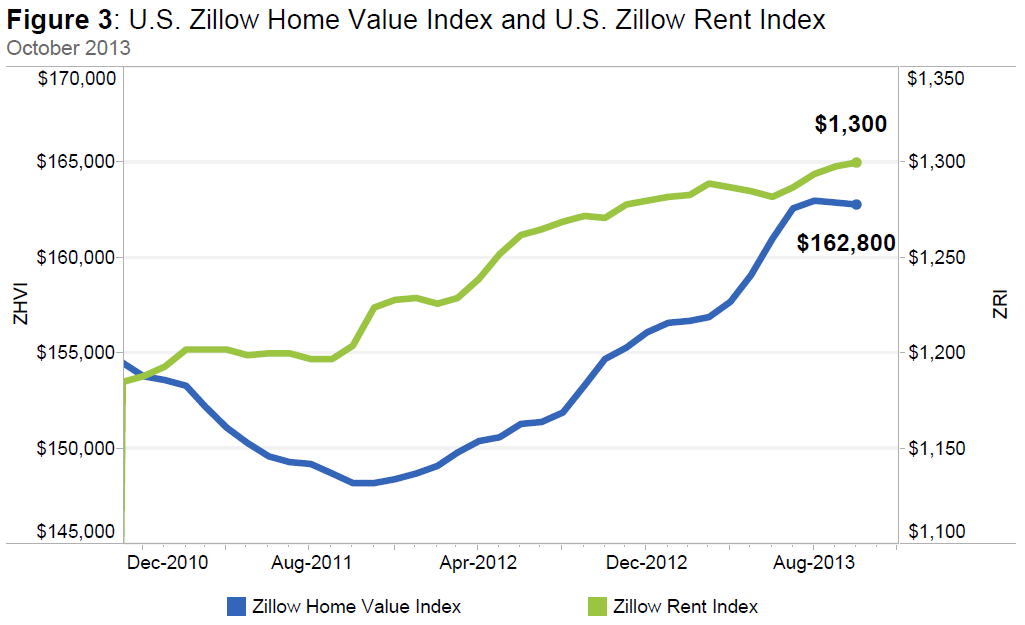 Foreclosures
The rate of homes foreclosed continued to decline in October with 5.44 out of every 10,000 homes in the country being liquidated. The last time it was at this rate was in January 2008. Nationally, foreclosure resales also continued to fall, making up 8.7% of all sales in October (Figure 4). This is down 2.1 percentage points from October 2012 and down 11.2 percentage points from its peak level of 19.9% in March 2009. The foreclosure pipeline is slowly being cleared out; however, judicial foreclosure states, such as New York, New Jersey and Connecticut, are much slower in clearing the foreclosed home backlog. These states are also experiencing a slower and less robust recovery as foreclosures resales (REOs) continue to put downward pressure on home values. These dynamics also contribute to recent soft and declining home value growth rates.
Outlook
October showed that the housing recovery has entered a new phase. We are seeing much more volatility in home value growth rates, with some months showing home value deprecation and some rapid appreciation. We do believe that this is quite normal as the housing market recovers and returns to a more "normal" state. Overall, the pace of monthly home value appreciation has slowed lately , slowly returning to more sustainable levels. Despite the recent slowdown, our forecast calls for another 2.7% in home value appreciation from October of this year to next October. Certain risk factors remain in our forecast: Negative equity is still high at 21% of mortgaged homeowners underwater in Q3 of this year, and affordability is starting to decrease. Some markets, such as San Jose, San Francisco and Los Angeles, will become very unaffordable with increasing mortgage rates. Mortgage rates will continue to climb and will pass the 5% mark later in 2014. The recovery continues, albeit at slower rates.
Data Resources
Figure 1: Zillow Home Value Index
Figure 2: Zillow Home Value Index Summary
Figure 3: Zillow Home Value Index, Zillow Rent Index
Figure 4: Homes Foreclosed (out of 10,000)