In 2010, Zillow used its unique access to mortgage data through Zillow Mortgage Marketplace to gain insights on credit availability. Now, 3 years later, we're taking another look at how mortgage interest rates change with loan-to-value (LTV) ratios and credit score.  Since we last ran this analysis mortgage rates continued to drop to all-time lows, hitting bottom at 3.24% for 30-year fixed mortgages in December 2012.  They have since risen to surpass rates we saw when we ran this analysis in September 2010.
Zillow Mortgage Marketplace provides borrowers with live, custom quotes based on location, home price, down payment, income and credit score information, but no personally identifiable information, as requests are anonymous. The number of loan requests on Zillow Mortgage Marketplace has grown by 655% in the past 3 years to more than 2 million a month with an average of more than 60 quotes per request.
We found that almost no quotes were provided to borrowers with less than a 620 credit score, showing that these borrowers will have an extremely difficult time getting a mortgage[i]. Almost 30% of Americans fall into this category. Meanwhile, borrowers with credit scores over 740, on average, receive the very best rates, as can be seen in figure 1[ii]. These borrowers account for 40% of all Americans, according to MyFico.com.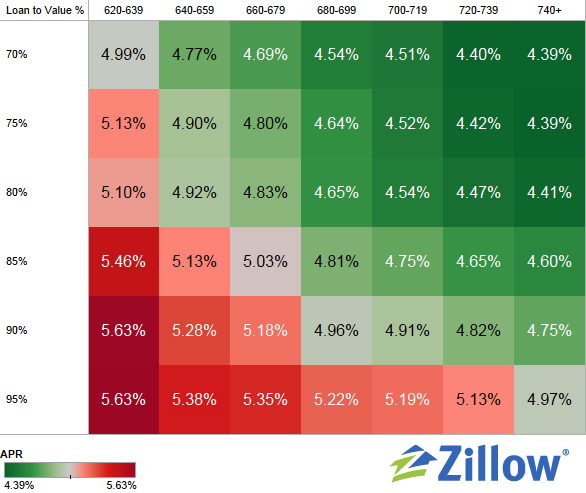 Figure 1 shows the dependence of the annual percentage rate (APR) on LTV and credit score[iii].  With a 20% down payment (LTV = 80%) borrowers with credit scores above 740, on average, get a rate 71 basis points lower than borrowers with a 620 credit score. With 20% down on a $200,000 home, the borrower with a 740 credit score will spend $24,000 less, the equivalent of more than half their down payment, over the lifetime of a 30-year fixed mortgage loan.
Figure 2 shows the correlation between APR and credit scores by LTV buckets.  As a borrower's LTV increases, the power of the credit score in determining the APR increases.  At an LTV of 95%, there is still improving APRs between 740 and 760, but for an LTV at 70%, the very best rates are available to borrowers with a 720 credit score. The inverse trend can be seen for credit score in figure 3, where LTV matters much more for borrowers with low credit score.  Borrowers with a credit score below 700 see a change in APR even when increasing their down payment beyond the standard 20%.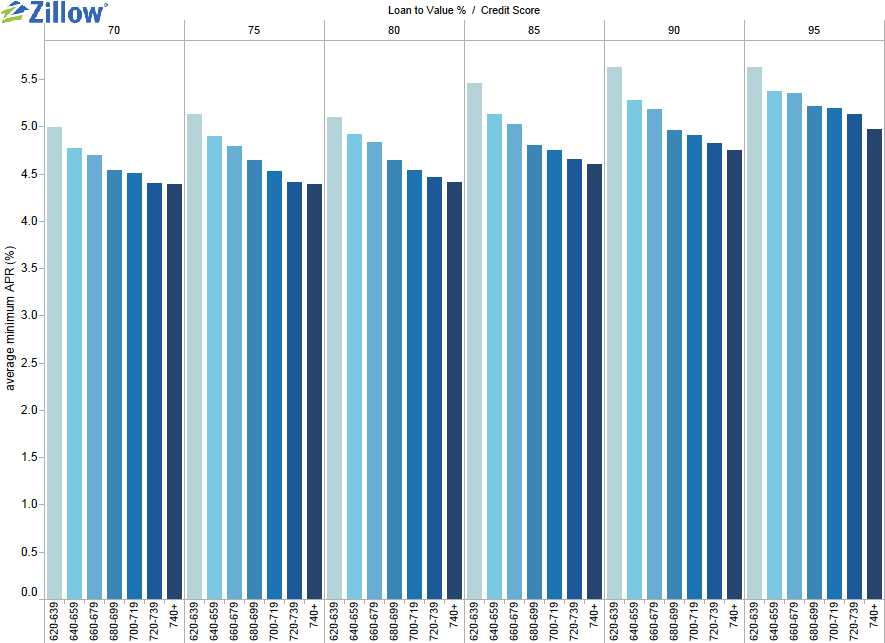 To demonstrate how LTV and credit score impact APR, consider three friends, Scott, Tom and Brandon, who are all looking to get a mortgage for a home in the same city. Scott has been out of school for a while and has managed to save up a sizable down payment of 30% on his dream home, but he has always paid for everything in cash and has no credit history; Scott has a credit score of 635.  Tom has a good credit score at 745, but he only recently finished school and has enough for a 5% down payment.  Brandon has the same credit score as Tom, 745, but has saved enough to put 20% down. Despite their very different profiles, Scott and Tom would get nearly the same APR (4.98%) on their mortgage, indicating they pose equal risk to the mortgage underwriters. Brandon, however, would get the best rate, nearly 60 basis points lower at 4.41%.  Assuming they have all have $1,000 per month for their monthly mortgage payment, Scott would be able afford a house of $265,000; Brandon a house of $250,000; and Tom a house of $195,000.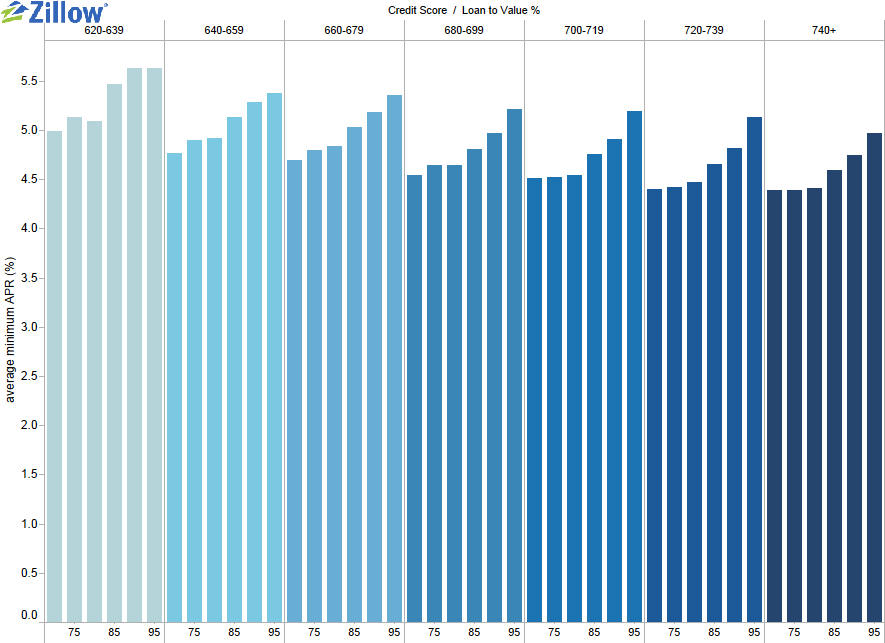 To figure out how much you can afford, check out our affordability calculator, determine your monthly housing costs with our mortgage calculator, and for the best and most up-to-date rates, visit Zillow Mortgage Marketplace.
---
[i] The data is from 9/1/13 – 9/15/13 for 30-year fixed, conforming (<$417,000 loan amount), non-FHA, purchase loans, including more than 500,000 loan requests and 24 million quotes.
[ii] We also ensured within a linear regression model, that a higher credit score will result in a better mortgage rate, controlling for other parameters, such as income, LTV and the price of the house.
[iii] The APR shown is the average of lowest APR quote received from each loan request, as each requests produces on average 47 quotes for 30-year fixed mortgages.