After we released our 2013 Q2 Market Reports, we asked our panel of professional forecasters to provide predictions for housing market growth over the next 5 years. The latest Zillow Home Price Expectations Survey (ZHPES) was released on Aug. 8. The prediction for appreciation in 2013 is an average of 6.7 percent year-over-year — a significant jump from the 5.4 percent annual increase predicted the last time the survey was conducted. The lowest prediction for year-end appreciation was 1.69 percent, while the highest was 15 percent. This edition of the survey was compiled from 106 responses, including the projections of economists, market and investment researchers and real estate experts.
Figure 1 shows the forecasted, cumulative home price changes by quartile among panelists. It shows that respondents expect us to exceed pre-bubble trend growth by the end of this year.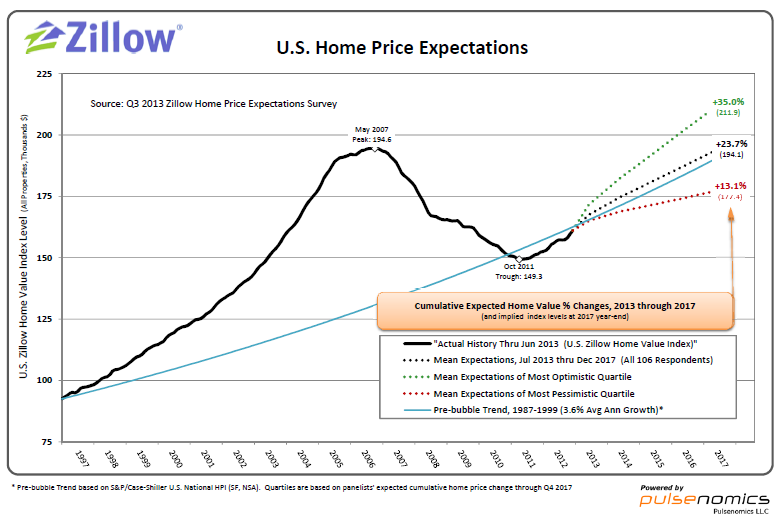 Table 1 below shows responses from the five most pessimistic and five most optimistic real estate experts in the survey (sorted cumulatively over the full five-year horizon). The greatest cumulative (through the end of 2017) price depreciation forecast is from Mark Hanson of -3.09 percent, while the greatest appreciation of 46.68 percent was predicted by Anthony Sanders.
Panelists were also asked, on the heels of the largest three-month gain in mortgage rates since 2003, if recent increases in mortgage rates presented a significant threat to the ongoing housing market recovery. Among those expressing an opinion, 88 percent said no. Those panelists who responded "no" or "not sure" were then asked what minimum mortgage interest rate (on a 30-year, fixed-rate mortgage) would pose a significant threat to the housing recovery. Among these respondents, 61 percent said interest rates would have to rise to at least 6 percent to create a significant threat.