According to the third quarter Zillow Negative Equity Report, the national negative equity rate fell at its fastest pace in the third quarter, dropping to 21% of all homeowners with a mortgage underwater from 31.4% at its peak in the first quarter of 2012. In the third quarter of 2013, more than 1.4 million American homeowners were freed from negative equity, and 4.9 million mortgaged homeowners have been freed since the beginning of 2012. However, roughly 10.8 million homeowners with a mortgage still remain underwater (Figure 1). Moreover, the effective negative equity rate nationally — where the loan-to-value ratio is more than 80%, making it difficult for a homeowner to afford the down payment on another home — is 39.2% of homeowners with a mortgage. While not all of these homeowners are underwater, they have relatively little equity in their homes, and therefore selling and buying a new home while covering all of the associated costs (real estate agent fees, closing costs and a new down payment) would be difficult (Figure 2). Of all homeowners – roughly one-third of homeowners do not have a mortgage and own their homes free and clear – 14.7% are underwater.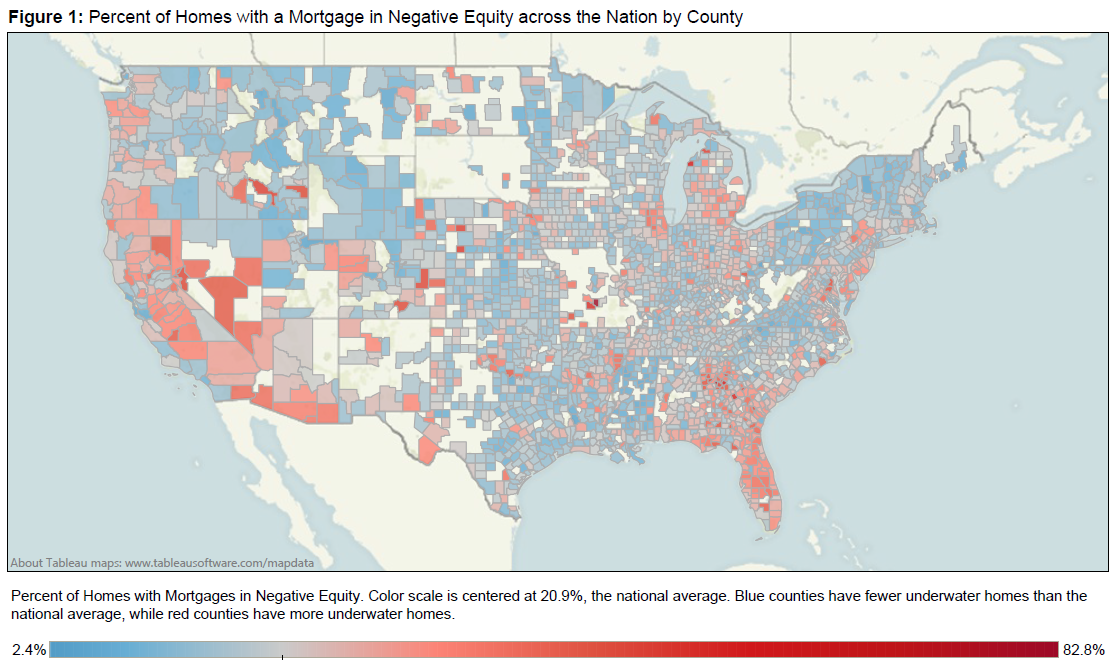 The aggressive quarterly drop in negative equity in the third quarter was driven by high rates of home value appreciation, especially in regions with large numbers of underwater homeowners. Some of the hardest-hit markets during the housing bust have been showing the highest rates of home value appreciation, despite recent slowdowns in appreciation rates. Negative equity has been creating some unique dynamics in the housing market. Figures 3 through 6 provide an overview of the trends we have been observing.
Figure 3 shows that the decline in home values during the housing bust, as denoted by the percentage decrease in home values from peak to trough, caused massive amounts of negative equity. Note that the negative equity used is from the first quarter of 2012, when most markets reached a peak in their negative equity. With many homeowners underwater, the supply of for-sale homes is severely limited, as homeowners are locked into their homes. The only options for selling the house on the open market are short sales or paying off the difference between the mortgage and the home sale. Recently, inventory constraints have been easing as homeowners are freed from negative equity; therefore we use this summer's (June's) inventory level to compare to negative equity in the second quarter of this year. This relation can be seen in Figure 4 – the more negative equity, the tighter the inventory. These tight inventory levels produced bidding wars and drove up home values during the peak of the summer selling season. This can be been in Figure 5, where June's inventory is correlated with September's year-over-year appreciation – the tighter the inventory the stronger the gains in home values over the past year.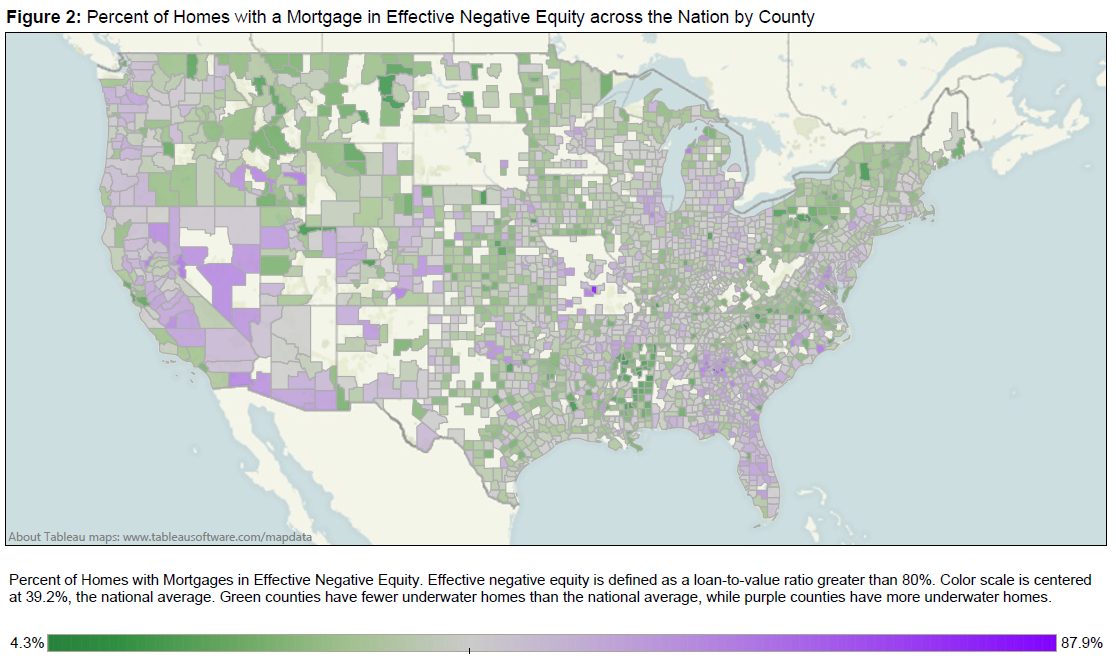 As further evidence that negative equity is driving home values and a heated real estate market, consider the link between days on Zillow – our newest measure for time on market – correlated with negative equity. Figure 6 shows that markets with higher levels of negative equity also have homes that remain on the market for fewer days. Of course at the end of this cycle, higher home values work to reduce negative equity and stabilize the market, a movement we have been seeing over the past quarter. This stabilization is especially evident in the third quarter as negative equity has fallen at the highest rate since it peaked in the first quarter of 2012.
Markets that have seen the highest levels in home value appreciation in September include Sacramento (34.1%), Las Vegas (33.3%), Riverside (31.8%), San Francisco (25%) and Detroit (23.3%). Furthermore, continued foreclosure liquidations are also driving down the negative equity rate. Despite these high rates of appreciation, negative equity is still very high and will remain high as deeply underwater homeowners are slowly being lifted toward positive equity. This is a process that will take several years – especially in the hardest-hit markets – to work off the high levels of negative equity.
Figure 7 shows the loan-to-value (LTV) distribution for homeowners with a mortgage in 2013 Q3 vs. 2012 Q3. Even though many homeowners are still underwater and haven't crossed the 100% LTV threshold to enter into positive equity, they are moving in the right direction. The good news is that, with these high rates of appreciation, negative equity has been reduced at a fast pace in the near-term. However, we expect negative equity rate reduction to slow in the fourth quarter and next year as home value appreciation is already moderating and will continue to do so later this year and into the next. In September, we saw significant slowdowns with some metros even seeing home value declines. Since its peak, Phoenix's negative equity rate dropped by 33.1 percentage points, Las Vegas' dropped by 31.4 percentage points and Sacramento's dropped by 27.8 percentage points. However, nationally the effective negative equity rate remains very high at 39.2%. In a move-up market, homeowners with less than 20% equity will effectively still be "locked" out of the resale market. On average, a U.S. homeowner in negative equity owes $74,632 more than what the house is worth, or 41.8% more than the home's value (Table 1). While roughly a fifth of homeowners with a mortgage are underwater, 92% of these homeowners are current on their mortgage payments.
The Zillow Negative Equity Report incorporates mortgage data from TransUnion, a global leader in credit and information management, to calculate various statistics. The report includes, but is not limited to, negative equity, loan-to-value ratios and delinquency rates. To calculate negative equity, the estimated value of a home is matched to all outstanding mortgage debt and lines of credit associated with the home, including home equity lines of credit and home equity loans. All personally identifying information ("PII") is removed from the data by TransUnion before delivery to Zillow. Overall, this report covers more than 870 metros, 2,500 counties and 24,300 ZIP codes across the nation.
An interactive map of this data can be found here.
As described earlier, home value appreciation has been the main factor driving down negative equity rates, specifically in very hard-hit states such as California, Florida, Nevada, Arizona and Georgia. There has been a negative equity feedback loop, as regions with high negative equity have experienced acute inventory shortages brought on in part by locked-in underwater homeowners, and these shortages in turn have produced home value appreciation spikes, which have been reducing negative equity at a fast pace. The metros that have seen the largest quarterly drop in negative equity among the largest 30 metros are Las Vegas (down 8.8 percentage points), Riverside (down 8.2 percentage points) and Sacramento (down 8.1 percentage points). Despite these large drops in negative equity, the rates remain high. Large metros with the highest negative equity rate in the third quarter were Las Vegas (39.6%), Atlanta (38.2%) and Orlando (34.2%). These rates are higher when considering the effective negative equity rate. Table 1 shows the effective negative equity rates for the top 30 metros.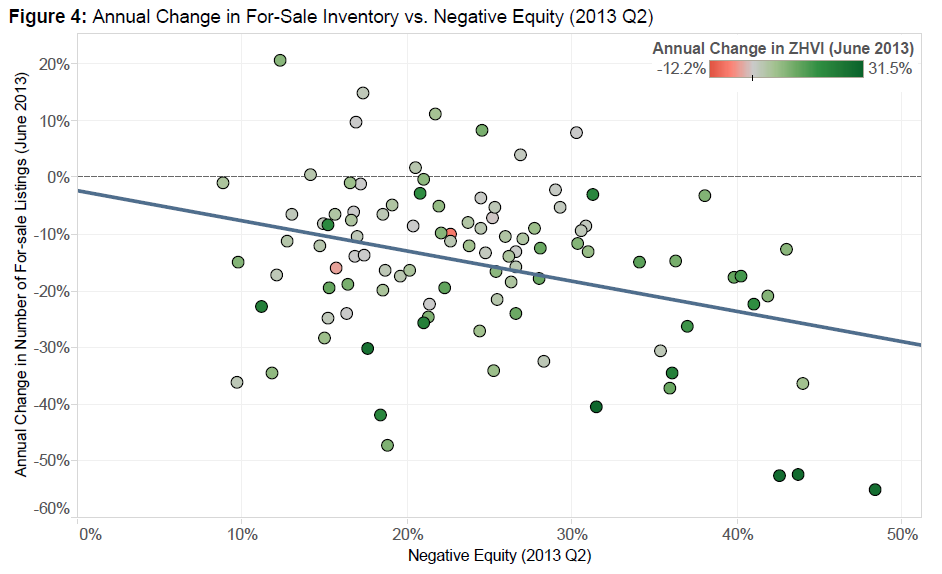 In some cases, substantial home value appreciation rates have produced only relatively modest decreases in negative equity rates. However, the depth of negative equity has been significantly impacted.  In the Phoenix metro, the percentage of homeowners with a mortgage who owed more than double what their houses were worth was reduced from 9.7% to 3.4% from the third quarter of 2012 to the third quarter of 2013, which can be seen in Figure 8. In the Las Vegas metro, 8.4% of homeowners with a mortgage owe more than twice the amount of their homes' value. This number compares favorably to how deeply underwater Las Vegas homeowners were a year ago. In 2012 Q3, 21% of homeowners with a mortgage owed more than double (see Figure 9). On the metro level there is wide variation in negative equity, with the percentage of underwater borrowers ranging from 5.3% to 48.1%. Furthermore, there is wide variation in how deeply homeowners are underwater. Figure 10 provides an overview of the distribution of the loan-to-value ratio for the largest metropolitan areas (a loan-to-value ratio greater than 100% means that the homeowner is underwater).
While negative equity makes a household more vulnerable to foreclosure, most homeowners in negative equity will not end up in default. The majority of underwater homeowners continue to make regular payments on their mortgages, with only 8%, down from 9.7% a year ago, of underwater homeowners being delinquent. This implies that 1.7% of all homeowners with a mortgage are at high risk for foreclosure near-term. Figure 11 shows a breakdown of these numbers for the top 30 metros.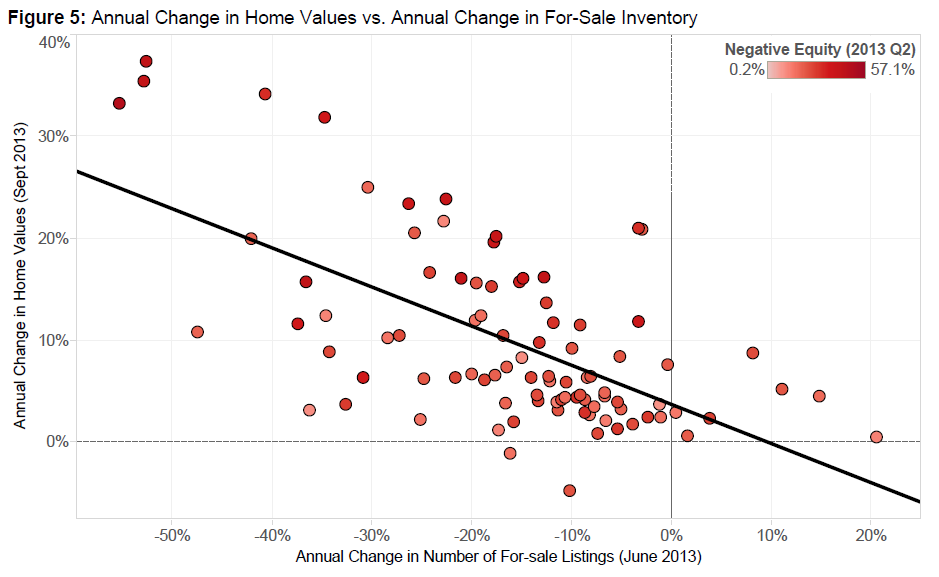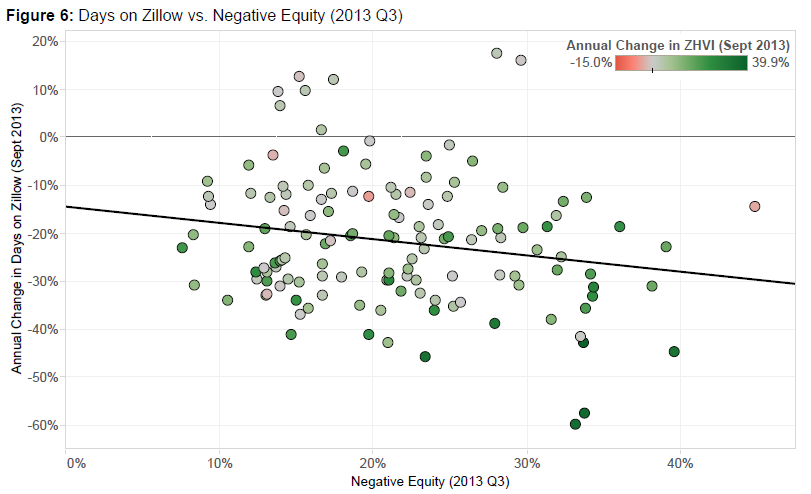 Forecast
The Zillow Negative Equity Forecast predicts the negative equity rate among all homeowners with a mortgage will fall to at least 18.8% by the third quarter of 2014, freeing more than 1.1 million additional underwater homeowners nationwide. Of the 30 largest metro areas, the majority of these newly freed homeowners are anticipated to come from Los Angeles (59,103 homeowners), Riverside (73,361 homeowners) and Atlanta (42,063 homeowners). However, the Zillow Negative Equity Forecast is a conservative estimate of what negative equity rates will be a year from now. To forecast negative equity, we take the current home value of a house and appreciate it by the Zillow Home Value Forecast (ZHVF) for the MSA in which the home is located. In cases where there is no ZHVF available, we use the historical rate of home appreciation, and for metros that don't have a historical rate of appreciation we use the historical rate of inflation at the national level. For homes that are not located in a metropolitan area, we use the forecasted national rate of appreciation. To calculate the level of home equity a year from now, we use the forecasted home value and the current outstanding debt balance, where we make no assumptions about a homeowner's debt level a year from now. We also make no assumptions about foreclosure activity in the coming year. Therefore, this forecast is a very conservative one, as homeowners will likely continue to pay down their debt throughout the year, and homes will likely continue to be foreclosed on, and both of these factors will contribute to a lower negative equity rate. The Zillow Negative Equity Forecast can therefore be considered a higher bound estimate of negative equity.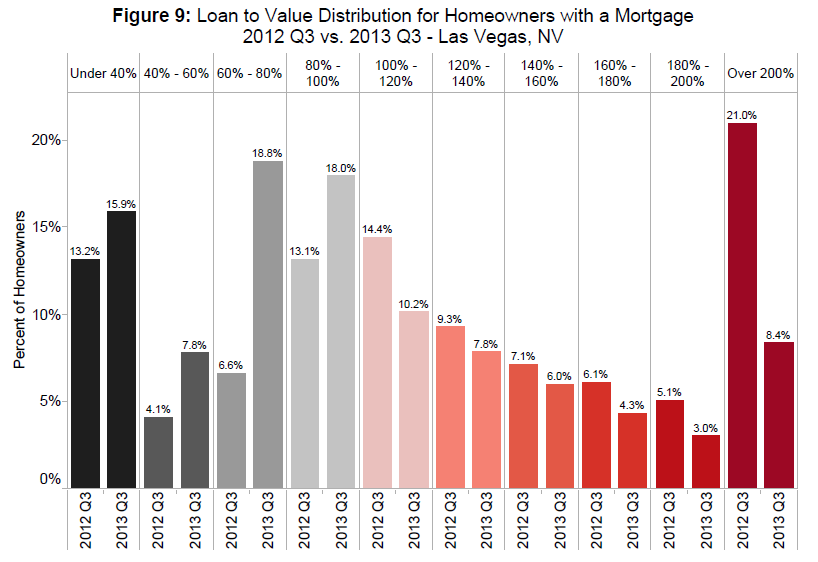 Outlook
Over the past year, we have clearly seen the impact of negative equity on the market. We have described how negative equity limits the available for-sale inventory in the marketplace, which in turn has produced extreme rates of home value appreciation. Negative equity will continue to impact the real estate market, especially as mortgage rates rise and home value appreciation tempers, and this in turn will slow the decline in negative equity. Our September Real Estate Market Report showed that many markets are experiencing slowing home value appreciation, with some markets even experiencing home value declines. This is a good thing, as many markets' home value appreciation was outpacing income growth, and homes were becoming too expensive, putting affordability at risk.
However, this moderation will mean that the negative equity rate will decline at a much slower pace. We expect these dynamics to unfold two to three years from now once mortgage rates are again closer to more normal levels. We expect the 30-year fixed mortgage rate to reach 5% by the end of 2014. In the short term, home values are up 6.4% on a year-over-year basis in September 2013, and given our forecast of an additional 3.8% home value appreciation over the next year (September 2013 to September 2014), we expect that negative equity rates will continue to decrease in the next year to a rate of, at most, 18.8% by the third quarter of 2014.
Download Zillow Negative Equity 2013 Q3 Data