As we exit the hottest selling season since the housing bubble burst in mid-2007, we expect home value appreciation to continue to slow, especially in California metropolitan areas such as San Francisco and San Jose, where home value appreciation over the past year has been more than 20 percent — much more than you would normally see. Much of this slowing is due to affordability levels starting to decrease from record highs. In this post, we take a closer look at the current market dynamics impacting home values and mortgage rates, as well as second quarter price-to-income ratios (our first quarter numbers can be found here) and affordability impacted by these dynamics for 250 metros and the United States as a whole.
As the housing recovery continues after home values bottomed in October 2011, there are interesting dynamics in the marketplace. Over the past year, especially, high levels of negative equity in many regions around the U.S. locked many homeowners into their homes and have severely impacted the availability of for-sale homes. This low level of for-sale inventory runs counter to a relatively high level of demand, partly because of low mortgage rates. Many potential home buyers have returned to the market, especially as household formation rates return to normal and doubled-up households have continued to unwind. The start of this unwinding can be seen in figure 1. Additionally, investors have been very active in markets that had over-corrected, including Phoenix, Las Vegas and Southern California, where expected cap rates for investors were very high.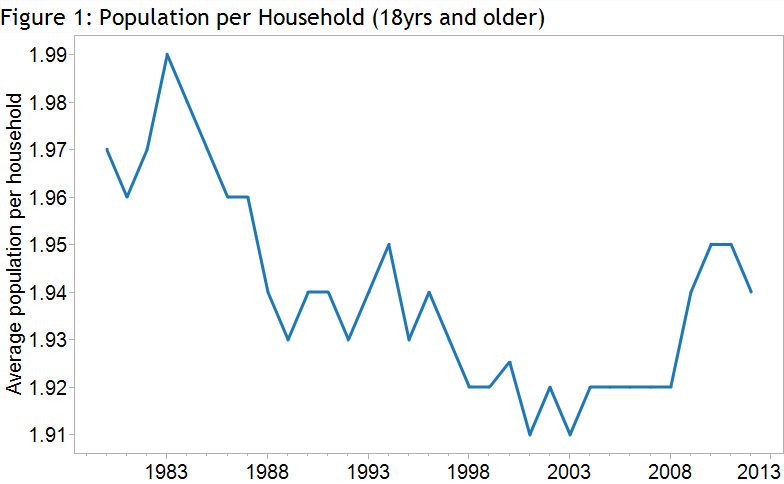 This mix of low supply and high demand has caused many spikes in home value appreciation and has helped markets recover large chunks of their lost values. As figure 2 shows, the markets that lost the most value (decline in home values measured from the market's peak to the trough in each market) are also the ones that are showing the highest rates of appreciation. This is occurring as markets that have lost a large amount of value in their housing stock have also accumulated the highest levels of negative equity. In turn, these markets are also the ones with the worst inventory shortages, as homeowners are "stuck" in their homes, unable to sell unless they can engage in a short-sale or bring cash to the closing table. In some metros, these spikes in home value appreciation have been so pronounced that some metros, such as Denver, have already surpassed their peak home value levels. With these rapid increases in home values, as well as increases in mortgage rates, affordability has been slowly declining. In most metros, affordability is still much higher than historical levels measured as an average from 1985 to 2000; however they are no longer at their highest levels.
Looking forward, we expect to enter the next phase of the housing recovery. The market is already showing signs of cooling, with month-over-month appreciation in the Zillow Home Value Index slowing over the past few months. After the monthly pace of home value increases rose to 0.9 percent in May, we have witnessed three straight months of slowing monthly gains. Negative equity has been reduced significantly over the past year, dropping from 30.9% in the second quarter of 2012 to 23.8% in the second quarter of this year. This has freed more than 805,000 homeowners in the second quarter alone and more than 3 million over the past year. This has also helped relax inventory constraints, which have started to ease as more for-sale supply has hit the market.
At the same time, demand has been impacted by investors exiting markets that are starting to look more expensive, including Southern California and Phoenix, and moving to relatively cheaper markets, such as Atlanta and Chicago. Moreover, demand has been dampened by rising mortgage rates. The 30-year fixed mortgage rate hit a low in December 2012 at 3.24%, according to Zillow Mortgage Marketplace, and has since surpassed the 4.5% mark. The Fed did announce in late September that it will not taper its quantitative easing program, as was widely expected, and rates correspondingly fell closer to 4%. We do expect to Fed to reduce its monthly purchases of mortgage-backed securities and treasuries by the end of this year/early next year, and with that rates will once again rise. We expect rates to be above 5%  by the middle of next year. As mortgage interest rates rise, investors exit the market and more homes are made available, this trend should continue. This moderation will continue and home value appreciation rates will return to more sustainable levels.
These developments are welcome as some markets are starting to approach their historic affordability levels and are forecasted to exceed them as mortgage rates and home values continue to rise. The interactive graphic below shows the price-to-income ratio, which compares the median price of homes to the median level of household income in a given area. Specifically, we used the metro-level Zillow Home Value Index, which is a measure of home values for a given metro, together with that metro's median household income. Median household income is currently available through 2011. For years following 2011, we calculated the median household income by estimating it via the Bureau of Labor Statistics' wage growth rates. As can be seen for the national ratio, it never returned to the historical average and in recent quarters has actually started to increase once again as home values have been appreciating at higher than historically normal rates (and income growth has remained fairly flat). To control for the effect of mortgage rates, which have a fundamental impact on purchasing power, we turn to an affordability measure.
Calculating affordability
With mortgage rates well below 4% for roughly the past two years, consumers had an incredible purchasing power boost, as home affordability was at an all-time high. To calculate an affordability index, we first calculate the mortgage payment for the median house price in a metropolitan area by using the metro-level Zillow Home Value Index for a given quarter and the 30-year fixed mortgage rate during that time period, which is provided by the Freddie Mac Primary Mortgage Market Survey (based on a 20% down payment). Then we consider what portion of the monthly median household income goes toward this monthly mortgage payment (principal and interest only, not including taxes, insurance, etc.).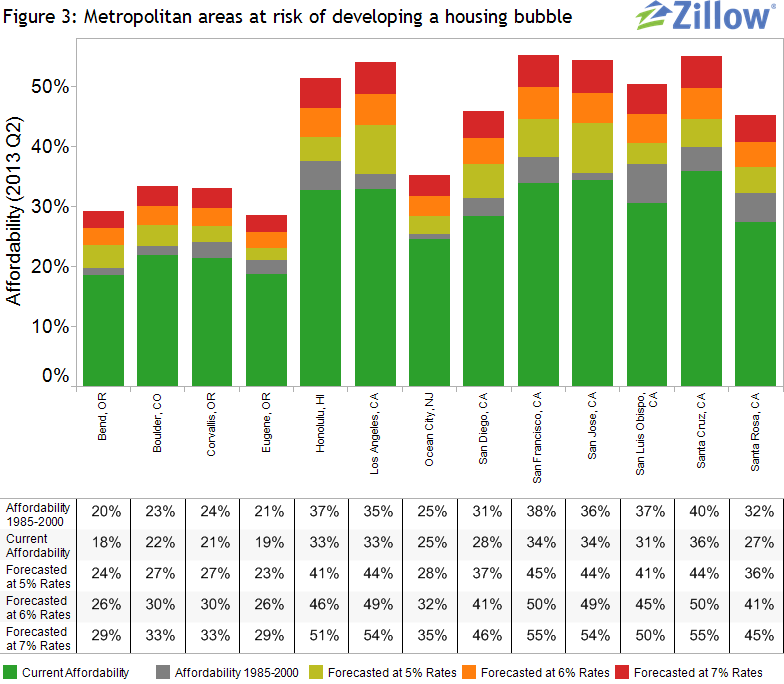 In the nation as a whole, for example, this share ranges from 12.7 to 26.6%, meaning at its lowest and most affordable point (2012 Q4), the mortgage payment for a median house in the U.S. made up roughly 13% of the monthly median household income. In the second quarter of 2006 – at the height of the housing bubble – a monthly mortgage payment made up 24% of median household income. Individual metros such as Miami or San Jose have a much wider spread between the lowest and highest values. Low mortgage rates have allowed home shoppers to afford more home for their buck. This greater affordability has in turn also helped to increase home values.
Some markets are fast approaching their historic levels of affordability and are indeed forecasted to exceed them. Figure 3 below shows some of these markets. In these markets it will be tough to sustain these home values without income levels rising to meet the cost of housing. Therefore, one of two scenarios is likely to happen: either current residents are displaced and new potential home buyers who have higher incomes enter these markets, or – the more likely scenario – in the years to come, home values will have to either stagnate or fall to remain affordable, which we may already be seeing. According to the Census Bureau, existing home sales in the Western U.S. fell by roughly 21% in August, even as inventory of such homes rose by 20%. Ultimately, consumers in the West bought fewer homes not because they couldn't find any to buy, but because they didn't want to pay the higher prices.
These potential dips in home values are not the bursting of a bubble or market crashes; they are simply adjustments in the market and are quite normal, especially in a recovery process where the overall system is adjusting to different shocks and pressures. It is important to remember, though, that the housing market operates with a fair amount of momentum, so these adjustments will not happen instantaneously.