Category - Real Estate Investing
Upload Image
One of the many benefits of owning cash flow properties is that real estate rent, collected as income, are considered passive income by the IRS and are exempt from FICA taxes –no matter how large they grow! Most earned income is not exempt, and if you happen to look at your standard paychecks you will see a FICA deduction.
In addition, all expenses for the real estate investment are deductible against the passive rent income. Examples of deductions are: interest expense, taxes, insurance, utilities, repairs, homeowner's association dues, management fees, legal fees, accounting fees, and any other expenses paid due to owning and/or renting a property. The depreciation of the property can also be used as a deduction. After deductions are taken –if your income is zero or a net loss you will pay no ordinary income tax and under limited circumstances may be able to apply some or all of the loss to offset taxes on your salary. Of course, I am not a tax advisor and you would be wise to consult a tax professional on your own individual taxes.
For most property owners, interest expenses are the number one deduction during the initial phases of ownership. Many investors finance as much as possible, up front, to leverage their initial capital investment. The interest expense declines over the life of the loan, unless of course the loan is refinanced to take out equity. While the interest deductions decrease, the cash flow of the property typically increases as rental rates increase or keep up with inflation.
When the property is sold, the capital gains can be deferred if a 1031 exchange is utilized in the transaction to purchase another "like kind" property. All the closing costs including real estate commissions reduce the taxable gain amount or the cost basis being rolled forward in a 1031 exchange. Furthermore, its important to note that the sale of a personal residence is exempt from $250,000 (or $500,000 if married and filing jointly) of capital gain if the owner has resided in the home for greater than 2 years.
What to be aware of when you invest in real estate

Real Estate can be a very lucrative way to make money. One of the main indicators is the CAP Rate. This tells you your annual rate of return and how many years it will take to recoup your investment. This does not include the tax benefits, rather the actual return. If you buy a building for $1,000,000, but you only put down $250,000 (25%) then your personal CAP Rate is based on $250K.
You add up the rent and all other income and subtract the following (each case may different, but this is just a guideline what to look out for):
* Mortgage Payments
* Vacancy Rate (this can depend on the building and area)
* Insurance
* Management (even if you do it yourself you should calculate what it costs you)
* Utilities (If the tenants don't pay it)
* Maintenance (every day stuff like cleaning the common area)
* Minor Repairs (you should assume a certain amount of repairs will need to be done throughout the year)
* Major Repair Work (depending on the age of the building, and when certain items were replaced)
* Legal Fees (some tenants might not want to leave on their own, this is not a constant, just something you should be aware of)
Real Estate Investing Resources: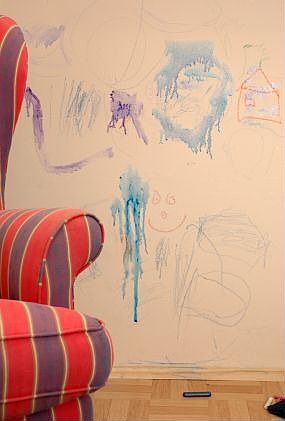 What the ****? My Tenants told me they were going to fix up the place?
Try as you may to avoid it, tenants are going to be tenants....furniture will bet banged into a wall, posters will be hung by tape, stickers will be affixed, children's artwork creations proudly presented..... Whatever happened to paper and easels?

Solution: Use High Quality Eggshell Finish Paint
You should always use high quality paint that is made to withstand abuse. Eggshell finish is great, it can be compared to an egg, hence the name "eggshell" which contains only a hint of shine or gloss. Yet, it is completely washable and is much more durable than flat paint. This low sheen paint is also good at hiding defects on the wall as well.
Scrub-able-scrub-able-scrub-able! Did I say scrub-able? Using a high quality, washable paint that can be scrubbed may save you from having to re-paint an entire wall. Wouldn't you rather just wipe it clean? This will save you time & money in the long run.
________________________________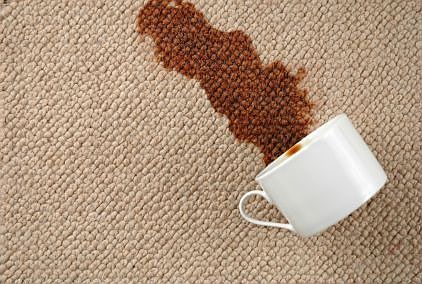 Tenant: Whoops... just had another spill
When you're putting in carpet, always be aware that not only may your tenants have kids but they may have pets too. These are just a few of challenges your carpet will be up against. This can easily add up to costly new carpet.

Solution: Use Stain Resistant, Dark, Multi-Color Carpet
Using a dark color or a pattern carpet can make a big difference over the years of tenant use and <i>abuse</i>. Sculpted multi-colored designs or darker colored carpeting are best as they will not show dirt or footprints easily. Although this carpet can be a bit more expensive, it will have a longer life span than the cheap, plush, light colored carpet that a lot of landlords use.
____________________________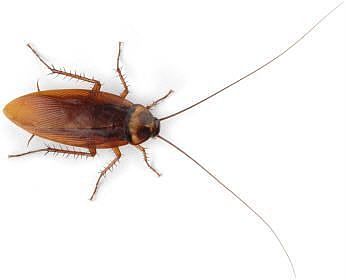 Read My Lips, No More Bugs
This is a problem most landlords would like to ignore. Pest (and Rodents too) are problems you have to deal with as a landlord. Simply calling an exterminator to come out over and over again is just a very costly solution.\

Solution: DIY Exterminating will save lots of dough and you'll have happy Tenants
The good news is there are more efficient and affordable solutions. Maxforce bait stations last for a year and solve most any roach problem. And, for rodents you can use Maki pellets or Catchmaster glue traps.<br><br>

_____________________

Hey What Happened to the Lights?
After a Tenant moves out you may notice that about half the lights are not working. Don't call that electrician yet, more than likely you just need to replace the light bulbs. Why? Well Tenants tend not to replace light bulbs when they go out.

_____________________________

Bargain Tile is Expensive!? Huh?
Sure they sell cheap 12x12 tile, but is this really a bargain? After the time and expense of installing, if the tile itself doesn't last you're going to pay more in the end by using those so called bargain tiles. Just be sure to use either ceramic or good quality, durable vinyl tile.
______________________________

Summary:
As you can see using the cheapest material in a rental property may not really be saving you money.

Now that your property is ready, it's time for you to find the right Tenant...
Step 2: Tenant Screening is Key
Screening Your Tenants by Phone
Use a phone screening Form to keep track of all the calls you receive when your listing your property for rent. This will prompt you to ask the right questions, such as: Do you have any pets?; When would you like to move in?; Is the deposit money available now? Other tips: Be sure to exchange cell phone numbers when you make an appointment to show your rental, because your tenants are going to get lost and will likely be late. Have the tenant call you one hour before the appointment to make sure they are going to show up.
________________________
Be Picky When You are Looking for your Next Tenant
Would you entrust the care of your children to this woman? I would hope not!! Be just as "picky" about who you choose to rent your property to! Don't be overly anxious to get a tenant in your rental property so quickly.
________________________
Start off with a Good Rental Application
Why is this so important? Well not only do you need it to screen your tenant, but if the tenant owes you a lot of money, they will most likely move out without telling you. Then you are going to have to track them down by using the information on the rental application. So keep the rental application in a safe place even long after the tenant has moves in.
You can get one here: Free Rental Application
_________________________
Perform a Credit Check
The laws for performing credit checks have changed a lot in recent years, so make sure you use a company that specializes in this service. Another alternative is to have your tenant run their own credit and either email it or deliver it to you.
_________________________
Verify Employment

Ask the applicants for copies of their latest paystub(s), look for the net (bring home) amount and look for any deductions, such as child support. You can also call their current employer and make sure everything checks out.
_________________________

Give the Tenant a Surprise Visit
Use an excuse to visit your prospective tenant wherever they are currently staying. This enables you to see if they are neat and clean or they are living like slobs.
__________________________


So.....

Take your time to find the right tenant and everyone will be happy!

The tenant will have a lovely place to live and the landlord will have
revenue coming in.
Step 3: The Residential Lease - The Ultimate in Protection

When it comes time for the Lease Agreement the key is to Spell It Out! It's just way to easy to think everything will be just fine after you have met and screened your tenant. Don't get caught in this trap! You need to have a bullet proof lease to protect you. If and when anything goes wrong you are going to look at the lease to protect you. Take the time and find the best lease that will provide you the most protection.

Your lease is the script that you and your tenant will follow. It tells the tenant:
How long will they be renting?
What they are paying?
When it's due?
Who takes care of repairs maintenance and yard work?
What happens if the rent is late?
What rules are there to follow?
What happens if a rules is broken?

Checkout My Other Page on How to Build a Lease Agreement Online.

Wait, Before you sign the Lease...

Was your rental property built before 1978? If it was, don't forget to give your Tenants a Lead Based Paint Pamphlet and have them sign a Lead Based Paint Disclosure. These documents are required by law when you are renting or selling a property built before 1978. If you already have a Tenant renting from you and you did not use these documents, it's not too late but just take care of it now.

You can get these forms here: Free Landlord Forms

Other Leasing Tips...
Print 2 copies of the lease, the tenant will keep one and you keep one.
Have the tenants initial important areas such as late rent procedures to ensure that they understand it.
Make sure that the Tenant gets the utilities switched into their own name.
Make sure you collect <u>all</u> of the money owed (security deposit, first month's rent etc.), before you give the tenant the keys.


Try a Step by Step Lease Wizard here: Lease Agreement
STEP 4: Prepare to Press the Eviction Button
OK, the last final VERY Critical Step is to prepare yourself for eviction. Do you know what you are going to do if your tenant stops paying the rent? causes a nuisance? gets involved with illegal activity or destroys the property?

Planning is so important! Know ahead of time- what to do, how to do it and when to do it.

More Eviction Tips...
Never try to take the law in your own hands by locking out a tenant, changing the locks or turning off the utilities.
Find and contact a local landlord/tenant attorney before it is time to evict.
Find out what documents and licenses you will need to evict.
Devise a timeline of what late notices and eviction notices you are going to send, when you will send them and have them ready ahead of time.
Don't wait too long to start the eviction process.
Use a Rent Ledger to keep accurate records of charges to the tenant and payments made.
************************************************************
Finding Your Perfect Investment Cabin In The Smokies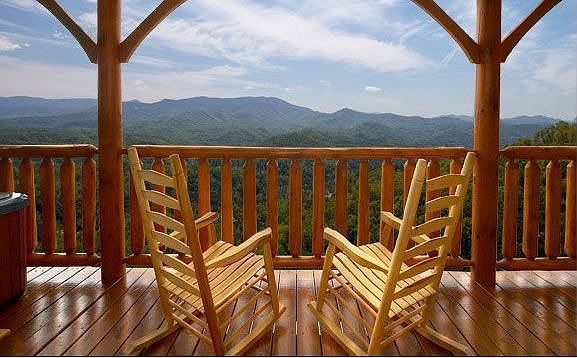 Investing in cabin rentals is one of the primary industries in Sevier County. With 10-12 million visitors annualy, there is a high demand for lodging. On average about 27,400 visitors are in the Smokies per day! The 2000 census figures calculated 20,837 families residing in Sevier County. Sevier County, according to the 2000 census had 37,252 housing units. The 2000 census indicates approximately 17,000 investment properties in Sevier County. In other words, during your travels in the area, you are just as likely to encounter a tourist as a local!

Where do all of these visitors stay? Some stay in hotels, some stay in condos, some camp within the National Park, and some use their RV at campsites. Many choose to stay in overnight cabin rentals. The majority of cabin owners in the Smokies use their cabin primarily as an overnight rental, visiting occasionally. Others decide to use their cabin strictly as a second or vacation home. The predominant ownership usage is as an overnight rental with family visits a few times a year. This is a favorable form of ownership as one can still enjoy the use of a cabin that feels like home when going on vacation and have a substantial if not the entire portion of their mortgage, taxes, and insurance essentially paid for by visitors.

There are many factors to consider when purchasing an investment cabin. It is very important to determine the past rental history of the area, the amenities of the cabin, the location, and the features of the lot. When purchasing an investment cabin through me, I will research and create a detailed investment analysis including past rental histories in the area and of comparable cabins. This enables you to get a good projection of the amount of rental income you will receive.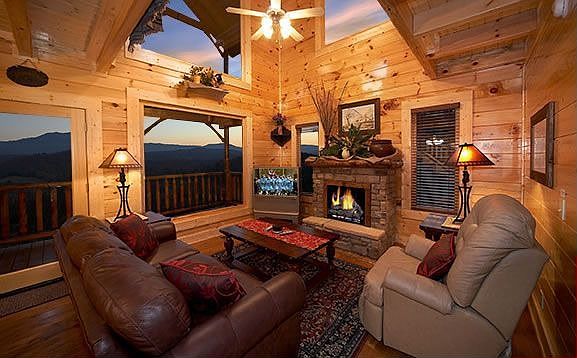 The amenities of a cabin play an important role for several reasons. When a visitor comes to the Smokies there are certain essential amenities they look for in a cabin. Some of these include a hot tub, pool table, large TV with cable or satellite, fireplace and a covered deck or screened porch. Each additional amenity beyond increases the chances a potential visitor will choose your cabin. Many other popular amenities in the Smokies include theater rooms with a DVD collection and surround sound, outdoor grills, high speed internet access, foosball and other game room activities, and swimming pool access within the community. It is not essential to have each and every one of these amenities, but generally the more the better.

The location of the cabin is vital as it is in any form of real estate. Some people prefer to be close in to Pigeon Forge or Gatlinburg to enjoy the activities in town. Others, however, enjoy a more secluded setting to kick back and get rid of all their worries. Many cabin communities located close to town have the cabins packed in very close to each other and do not offer much in the way of privacy. These cabins for the most part do have very good rental histories, but you give up some with respect to the privacy and seclusion feeling of being in the mountains. From my experience and the interaction with several cabin rental management companies, the three most desired features a visitor looks for in a cabin are view, water, and seclusion. By seclusion, the cabin still has to be fairly easily accessible with a paved road or one without a very steep incline. Some cabins require 4 wheel drive and are difficult to access during the winter months with ice on the roads.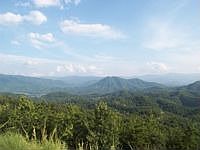 The features of the lot is definitely one of the most important factors. When visitors search for a cabin, one of the first things they will look for is the view from the cabin. If a cabin has an excellent view, it is almost certainly has a good rental history. Cabins with great views are not extremely common, but not a rarity either. A good portion of visitors request a cabin on a creek or river. The number of cabins located on a year round creek or river are substantially lower than those with views, so they are in fairly high demand. Seclusion is the third most requested feature visitors look for and there are many cabins that meet this demand. Ideally, a cabin with a view and on a creek is the best cabin rental. Finding this, however, is extremely difficult and the cost is often very high. Finding a cabin that meets one of two criteria - a view or creek - is a obtainable goal with cabins at reasonable prices.

Cabin Rental Management Company vs. Rent By Owner

The vast majority of cabins owned in the Smokies are managed by rental management companies rather than by their owners. There are advantages to each situation. With a rental management company, your investment is handled by a local company with very little of your personal involvement. This enables you to not have to face the daily involvement of managing a cabin. More things are involved than one might imagine. Cabin management companies advertise your cabin usually in print advertising and on the Internet, schedule cleaning of the cabin, perform maintenance checks and repairs, arrange for deposits of payment including the use of credit cards, obtain a database of past clients to contact about future promotions, perform checks on the cleaning of the cabins to ensure quality, a place of operation for the visitor to pick up keys and area information, as well as several other promotional and maintenance duties. Some companies provide these services extremely well, while others seem to be lackluster.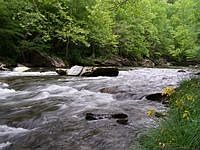 Choosing the right management company is an important decision and not an easy one to make. I suggest contacting other owners of cabins managed by the company, stay in one of their cabins and determine how the experience went, make sure they are active in the location of your cabin, comparing rental incomes of similar cabins managed by different companies, and the visibility of the company on the Internet. The Internet is the most used tool by visitors to choose their cabin and plan their vacation. It is vital the management company has a good presence on the Internet and major search engines. I have seen several cabins not perform well with a certain management company, but once placed with a different company, the cabin thrives and produces a great income. Swings are possible up to $10,000 a year. Although, using a management company has many advantages, it does have its drawbacks as well.

Property management companies in the area frequently charge 40% for their services. This is not a set rate as you will find other companies offering varying level of services for a lower percentage, but you will find 40% is quite a common figure in the industry. In the period prior to the real estate boom, cabins in the Smokies were purchased at comparable bargains to the prices today. With those lower prices and increasing rental rates, many owners had great positive income investments while still paying a 40% management rate. As the real estate boom from 2000 to 2005 occurred, prices began to rise (at over 10% appreciation), more cabins were built, and rental rates did not keep up with the increasing cost of cabins. This makes the search for an investment cabin producing a positive cash flow today while paying a 40% management fee more difficult to obtain. You can still find positive cash flow cabins, they are just harder to find and take patience to find that great deal. If the owner is already experienced at marketing and managing properties, they may be able to provide a better net result than a management company.

A person who likes a hands on approach and enjoys monitoring and managing their investment is a good profile for a person to manage their cabin themselves. A lot of work and money is spent with regards to hiring a cleaning subcontractor, ensuring quality control from a distance, and marketing the property to visitors. Usually a cabin rented by its owner will not generate as much gross income as one manageed by a company, but they do not need to as usually their costs will not meet the rates charged by the management company. If you are interested in renting the cabin yourself, I would suggest getting things prepared and setup prior to purchasing a cabin. This would include having a domain name and create a website for your future cahin. This enables the search engines to begin ranking your page prior to renting your cabin. Also, research the varying aspects of managing your cabin including cleaning companies, find a maintenance person, and checking on the possibility of placing your cabin on a site such as VRBO.com. Renting your cabin by owner is a viable and sometimes the best option, but takes the right type person to be successful. It never hurts to try though! If you are not successful yourself, there is always the option to transfer your cabin over to a management company within a very short period of time.

Analyzing The Financial Aspects Of Your Cabin

Some clients come to me and are not particularly concerned about the investment aspect of a cabin and are more interested in the use of their cabin and having a family vacation spot they can call their own. Others, however, desire a cabin strictly for investment purposes and rarely plan to visit the cabin. For those of you interested in the financial aspect, below is a cabin recently sold in the area in which I did a basic financial analysis.

This particular cabin was located in The Preserve - a log cabin community in Wears Valley with excellent views of the surrounding mountains. It had many amenities and features visitors desire. It sold in July 2007 for $305,000. The cabin is 1,304 square feet and is a 2 bedroom, 2 bath.

Sales Price $305,000
Cash Invested (20% Money Down) $61,000
Loan Amount (80% Loan To Value) $244,000

Monthly Payment (6.5% Rate, 30 Year Fixed) $1,542
Taxes Per Month ($967 Per Year) $81
Homeowners Assocation (HOA Dues vary by community) $75
Insurance ($700 Per Year) - Estimated $58
Utilities (Electric, Cable TV, Phone) - Estimated $300
Maintenance (Septic Cleaning, Well Maintenance, Other Repairs) $100
Total Monthly Expenses $2,156

Gross Income For Year 2006 $47,223
Average Gross Income Per Month 2006 $3,935
Rental Management Company Commissions (40%) (1,574)
Total Income Per Month $2,361

Total Income Per Month $2,361
Total Monthly Expenses $2,156
Net Profit (or loss) Per Month $205


The financial illustration and analysis above is an example from the actual sale and rental figures from a cabin in the area. Not all cabins perform in this same manner, some perform better and some worse. This is used for example purposes only. Results are not guaranteed.

Last edited

October 15 2008

Content flagged

We will review this content. Thanks for helping make the site more useful to everyone. To learn more, read Zillow's Good Neighbor Policy.
Contributors to this article include: