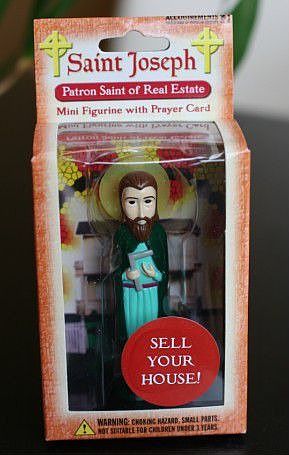 What does Saint Joseph have to do with real estate? According to the Catholic Community Forum, in the mid-1500s, Saint Teresa was trying to get housing and land for Christian converts and prayed to Saint Joseph for help. She even urged her nuns to bury medals of Saint Joseph in the ground. Now, more than 500 centuries later, people are still doing it, only they're burying Saint Joseph statues in the ground, not medals.
How does it work? If you're selling a house, the Saint Joe statue is supposed to have "powers" to bring buyers to your house.
Buy a Saint Joseph statue off the Internet (or, maybe your Realtor has one).
Bury it in your front lawn. The specifics of this are sketchy. Some people say to bury it headfirst, facing the house; others say facing the street and some say feet first.
The directions for a Saint Joseph statue that can be found in gift shops say,"To invoke the full power of Saint Joseph, you must bury this figure upside-down near the "For Sale" sign in your yard while reciting this simple prayer:
"Most holy St. Joseph. I beseech thee to intercede on my behalf to help me find a worthy buyer for my home, preferably one who will pay full price and waive inspection. Amen."
Flag content

Stating a discriminatory preference in an advertisement for housing is illegal. If you think this content is discriminatory or otherwise inappropriate and feel it should be removed from Zillow, please let us know by completing the information above.

Close

We're Sorry

This service is temporarily unavailable. Please come back later and try again.
Contributors to this article include: