Zillow Real Estate iPhone® App
Winner of the Best "Search Tools" App of the Year, Appy Awards 2013
Find homes for sale and for rent, plus check values on 110+ million homes in the U.S.
Find homes for sale and for rent, and recently sold homes
Only on Zillow: Get FREE access to foreclosure listings in your area, including pre-foreclosures, foreclosure auctions and bank-owned properties.
Get Zestimates & Rent Zestimates on 110+ million homes
Receive notifications when new listings hit the market, drop in price, show an open house date, or are sold.
Save your favorites and searches and access them across platforms: Zillow.com or from any mobile device
Share homes via email, Facebook, and Twitter
Now Optimized for iOS 7 and the iPhone 5S
The new Zillow Real Estate App for iPhone integrates a new photo-driven shopping experience optimized for the smaller screen, allowing home shoppers to slide through thumbnail-sized photos of their search results without leaving the map.
Download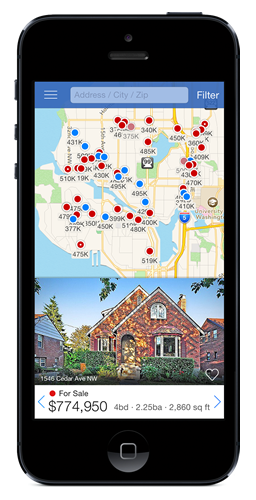 Also on iPhone:

How much house can you afford? What will your mortgage payment be? Get real-time rates, easy-to-use calculators and more with the Zillow Mortgages iPhone® App.